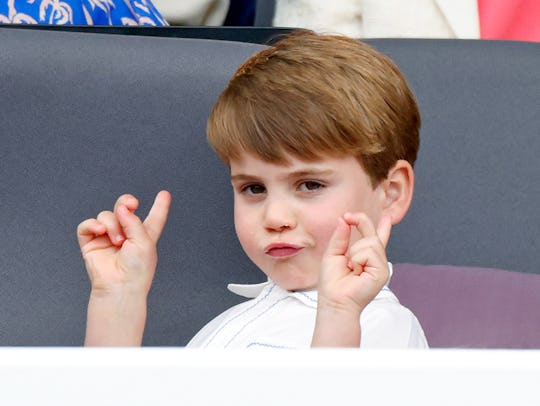 Max Mumby/Indigo/Getty Images Entertainment/Getty Images
Royal Photographer Says Prince Louis' Personality Takes After His Uncle Harry
Two sassy, silly peas in a pod.
Prince Louis knows how to command attention. We all remember his many moods and sassy moments at Queen Elizabeth's Platinum Jubilee, of course. And earlier this month, little "Lou Lou" stole the show in a sweet photo with his mom Kate Middleton. So where does he get his adorable personality? According to royal photographer, Arthur Edwards, who has been covering the family for decades, 4-year-old Prince Louis takes after his uncle, Prince Harry.
In a new interview with People, Edwards said he thinks the youngest child of the Prince and Princess of Wales is "like Harry," while their oldest, 9-year-old Prince George, takes after their father, Prince William. "George is like William because William was very shy," Edwards told the magazine. "Louis is like Harry … I don't know if you saw him at the Jubilee, but he was the star of the show."
Oh we all saw. Even his parents acknowledged just how much of a star was in a funny post after the events celebrating Queen Elizabeth's 70 years on the throne. "We all had an incredible time, especially Louis…," Prince William and Princess Kate tweeted. Prince Louis really did have a ball. From screaming at the top of his lungs next to the longest-reigning British monarch to making a bold move with his mom in front of dozens and dozens of photographers, Prince Louis made sure we remembered him. He was sassy, he was silly, he was the star.
Just one of the many silly face Prince Louis showed off at Queen Elizabeth's Platinum Jubilee. Max Mumby/Indigo/Getty Images
His great-grandmother might be Queen Elizabeth II, but Prince Louis will always steal the show. Max Mumby/Indigo/Getty Images
Did someone say, "Strike a pose!"Max Mumby/Indigo/Getty Images
"That's enough, mom."Max Mumby/Indigo/Getty Images
Like Edwards touched on, Prince Harry had his moments in the spotlight as a kid. Like in 1989 when he stuck his tongue out while on the balcony of Buckingham Palace.
Or, in 1987, when he showed off his toilet paper roll binoculars after his first day at nursery school.
As for Princess Charlotte, Edwards told People the 7-year-old is an independent little royal. "And Charlotte, well, she's herself ... She's a little madam. But she's getting to be looking very much a princess now, and Kate dresses her beautifully."
While Prince Harry lives thousands of miles away in California with his wife Meghan Markle and their two children, 3-year-old son Archie and 1-year-old daughter Lilibet, the Duke of Sussex has been known to spoil his nephew with thoughtful gifts. For Prince Louis' christening in 2018, The Sun reported that Prince Harry got him an £8,000 (a little over $9,780) first edition of A.A. Milne's Winnie the Pooh as a tribute to Princess Diana because some of his "happiest childhood memories was being read a bedtime story by his mother."