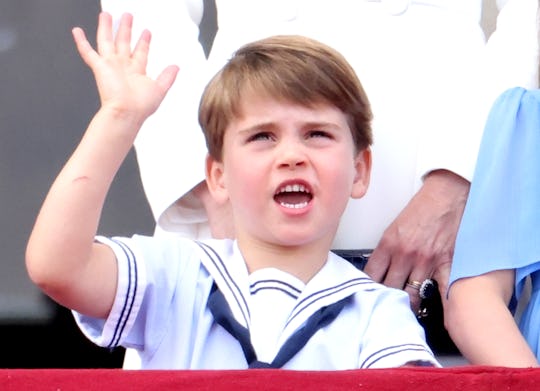 Chris Jackson/Chris Jackson Collection/Getty Images
Prince Louis Wore An Adorable Sailor Outfit Prince William Rocked Over 30 Years Ago
Prince Louis, 4, wore a sailor suit identical to the one his dad, Prince William, wore 37 years ago.
Prince Louis looks just like Prince William in new photos from June 2's Trooping the Colour, the kickoff to Queen Elizabeth II's Platinum Jubilee. The 4-year-old royal made his carriage ride debut today, along with siblings Prince George, 8, and Princess Charlotte, 7, and he had the internet in tears with his adorable waves and funny faces. But the most delightful part was seeing just how much he looked like his dad.
Dressed in a blue-and-white sailor outfit, Prince Louis was hard to miss at the festivities. His outfit is identical to the one Prince William wore at Trooping the Colour in 1985, right before he turned 3. Pictures from the event 37 years ago show Prince William standing on the balcony of Buckingham Palace next to Zara Tindell (née Phillips), daughter of Princess Anne, and Lady Davina Windsor, daughter of the Duke and Duchess of Gloucester. In the photos, he is squinting in the sun, pointing out at the crowd and smiling.
Fast-forward to today, and Prince Louis could be Prince William's twin! The 4-year-old has a similar haircut, matching facial expression, and the same sailor outfit. Both royals look so cute as little sailors, so it's no wonder Prince William and Kate Middleton decided to carry on this tradition with their son.
Prince Louis watched the celebration today from the balcony at Buckingham Palace, joined by Queen Elizabeth II, Prince Charles, the Duchess of Cornwall, the Duke and Duchess of Cambridge, Prince George, and Princess Charlotte.
At the 2019 Trooping the Colour, Prince Louis wore the same white-and-blue outfit that his uncle, Prince Harry, wore in 1986. At this event, Middleton is seen holding a 1-year-old Prince Louis as he waves from the balcony.
In pictures from 1986, Princess Diana is seen holding Prince Harry in the blue-and-white outfit, as he waves at the crowd from the Buckingham Palace balcony.
Prince George has also re-worn outfits from Prince William. At the 2015 Trooping the Colour event, an almost 2-year-old Prince George wore the same all-blue outfit that his dad wore at the same event in 1984.
There is a very similar picture of Prince William and Prince Charles at the 1984 event, where an almost 2-year-old Prince William is wearing the same blue outfit and being held by his dad.
These royal fashions are preserved so well through the years. It's so cool seeing the next generation honor their elders by rocking the same outfits!