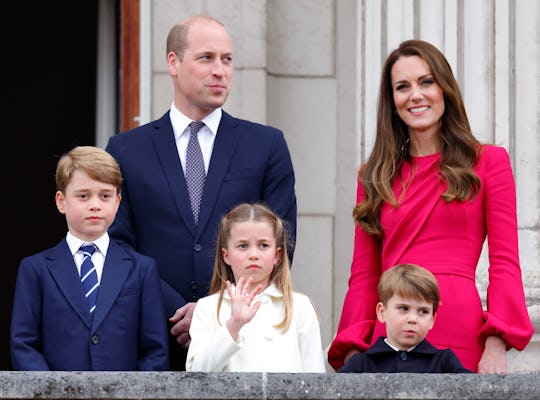 Max Mumby/Indigo/Getty Images Entertainment/Getty Images
Prince William & Kate Middleton Are Reportedly Moving Out Of London
They've set their sights on Adelaide Cottage in Windsor, and want to be closer to Queen Elizabeth.
It seems not even royalty can resist the allure of a romantic English cottage. Prince William and Kate Middleton have reportedly decided to settle into a new home in Windsor, and it's an adorable 19th century English cottage that was a favorite of Queen Victoria herself.
The Duke and Duchess of Cambridge were house-hunting in Windsor for several weeks in an effort to be closer to 96-year-old Queen Elizabeth, per The Sun. The couple currently split their time between two homes, an apartment in Kensington Palace and their country estate of Anmer Hall in Norfolk County, and are hoping to relocate to Windsor in time for summer. While they did apparently take a tour of Frogmore Cottage, which was famously the residence of Prince Harry and Meghan Markle, a source close to the couple told The Sun that they preferred Adelaide Cottage as it had recently been refurbished.
The Cambridges will maintain their residences at Apartment 1 in Kensington Palace and Anmer Hall, but plan to live in this historic cottage with a minimum of fuss. "Kate and William were very keen for a modest home to start their new lives in Windsor," a source told The Sun. "Adelaide Cottage fits the bill because it is a four-bedroom home and they do not need any more as they have no live-in staff."
Now the decision has reportedly been finalized, the entire family of five could begin using the sweet cottage as their primary residence starting this summer. They have reportedly been touring local schools in Windsor for 8-year-old Prince George, 7-year-old Princess Charlotte, and 4-year-old Prince Louis and have apparently found one that will suit all three of their children. The kids will have the run of the grounds at Windsor, where they will have more privacy than they currently do in London. "The reality is they are quite confined in what they can do in London," a friend of the Duke and Duchess told the Times. "The kids can't go into the park and kick a football with friends. Their plan is to be there for the next ten to 15 years and then move to Anmer, which is so special to them."
Owned by Queen Elizabeth, Adelaide Cottage has been used as a "grace and favor" residence for guests who are visiting Her Majesty, and was once the home of Group Captain Peter Townsend. Fans of The Crown will remember that Townsend was Princess Margaret's first love.
Built in 1831 by King William IV for his wife Queen Adelaide, the potential new home is within the grounds of Windsor Home Park and a 10-minute walk to Windsor Castle, where Queen Elizabeth has spent most of her time in recent years. Queen Victoria was a big fan of Adelaide Cottage, often having her tea and breakfast there. While it sounds quaint and sweet, Town & Country notes that there are some pretty luxurious features inside the cottage. Like gilded dolphins on the ceiling of the master bedroom and a marble fireplace from the Greco-Egyptian era in the living space.
Perhaps it's main selling feature for the Cambridge family these days, however, is its proximity to Queen Elizabeth. Who will most certainly love having her family close at hand.