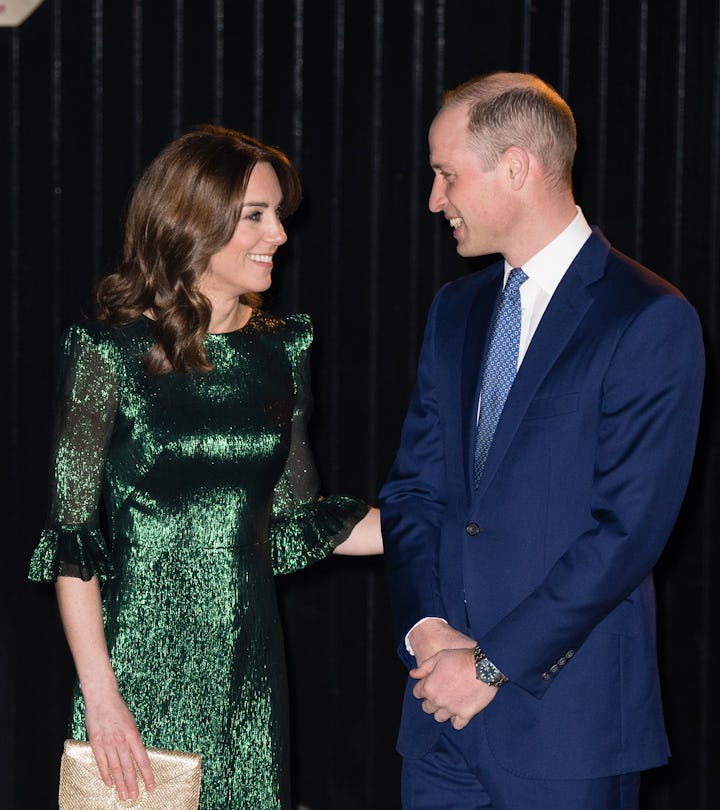 Samir Hussein/WireImage/Getty Images
The Heartfelt Details You Didn't Notice In Kate Middleton & Prince William's Portrait
Kate Middleton honored Princess Diana and Queen Elizabeth.
The Duke and Duchess of Cambridge are having something of a big year. They both turned 40 in 2022, they're moving to Adelaide Cottage in Windsor this summer, they're helping Queen Elizabeth celebrate her Platinum Jubilee (while also reigning in their hilarious 4-year-old son Prince Louis, of course), and oh yes, they just had their first official joint portrait painted.
Kate Middleton and Prince William visited the Fitzwilliam Museum in Cambridgeshire on Thursday to get a look at their first official joint portrait together as a couple. The portrait was painted by artist Jamie Coreth, and appears to have been painted from images taken when the Cambridges visited Dublin, Ireland in March 2020. They are wearing the same outfits they wore to visit the Guinness Storehouse at the time, Middleton in a Vampire's Wife emerald green dress in the portrait, while her husband is donning a navy suit and blue tie.
While they look glamorous in their portrait, several details were different in the painting from their original outfits, particularly when it came to Middleton. Coreth painted a pearl bracelet on her wrist that once belonged to Middleton's late mother-in-law Princess Diana and was part of her jewelry collection, and also added a brooch to her dress that belonged to Queen Elizabeth.
Naturally the couple would have presumably approved the final look, and the inclusion of jewelry from both Princess Diana and Queen Elizabeth is in keeping with Middleton's long track record of paying homage to the two women with her jewelry choices.
Middleton wore Princess Diana's earrings to the Trooping the Colour event at the Platinum Jubilee, earrings that had actually been gifted to the Princess of Wales by Queen Elizabeth herself. And her famous engagement ring was initially Princess Diana's ring, a gift to her not only from her husband but also her brother-in-law Prince Harry. Prince Harry inherited the ring his father Prince Charles gave his mother after she passed in 1997, and offered it to his brother to give to Middleton when they got engaged. Naturally she is wearing this ring in her portrait, as she always has it on her finger. A constant memorial to Princess Diana.
The first official portrait of the Cambridges marks a new era for the future King and Queen Consort. They are stepping forward with more of their own charities, and appear to be making more personal decisions about their philanthropic work. Prince William rang in his 40th birthday advocating for the homeless, for example, much as his mother had done before him.
Princess Diana is always with them. And now so is her jewelry.