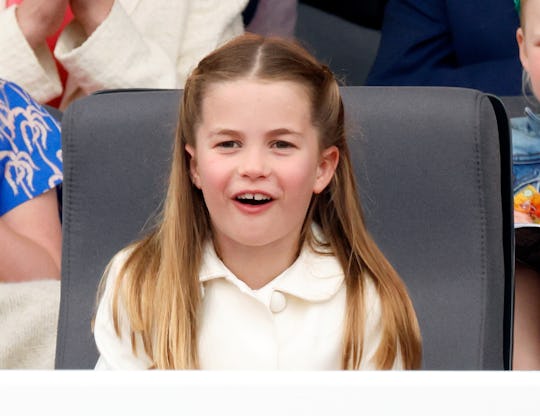 Max Mumby/Indigo/Getty Images Entertainment/Getty Images
Princess Charlotte Got So Excited To Shake A Royal Fan's Hand
Her smile of delight was absolutely adorable.
Princess Charlotte was a little marvel at the Platinum Jubilee celebrations honoring her great-grandmother Queen Elizabeth at the beginning of June. The 7-year-old only daughter of Prince William and Kate Middleton was all about decorum, keeping a weather eye on both her 8-year-old brother Prince George and 4-year-old brother Prince Louis to make sure they were behaving themselves. Which we all know was a job and a half with Prince Louis and his delightful antics. So when it came time for Princess Charlotte to get a bit of royal attention from a fan herself, she reacted with shocked pleasure. And we were all so happy to see her have a little moment in the midst of all her hard work.
Princess Charlotte joined her parents and her older brother on a special tour of Cardiff Castle in Wales, where the Cambridge family greeted well-wishers and shook hands as is their custom. TikTok user @the_blazing_royals shared a video of the moment when Prince William shook someone's hand followed by Prince George, who looked a bit bored by the process in his little suit. Princess Charlotte came up behind her brother and went to walk by, perhaps assuming no one would want to shake her hand. When the royal fan reached out, her smile of delight was absolutely adorable.
TikTok users couldn't get over Princess Charlotte's shy smile and enthusiastic handshake when she thought she was going to be passed over. "She looked so happy to be asked," wrote one person, while another noted, "Charlotte was definitely thinking she wasn't going to get any handshakes, I bet you surprised her." As the second child, Princess Charlotte seems to be taking on a role of caregiver, watching her siblings and perhaps even forgetting that she gets to be in the spotlight too.
Princess Charlotte was full of surprises at the Platinum Jubilee. A little model of decorum who paid close attention to her surroundings, she channeled her late grandmother Princess Diana in a viral moment where she stopped Prince Louis from too much waving, sang the national anthem with pride and was even seen her 96-year-old great grandmother with a look of concern during the Trooping The Colour event on the Buckingham Palace balcony, per The Mirror.
This girl is a true little princess.