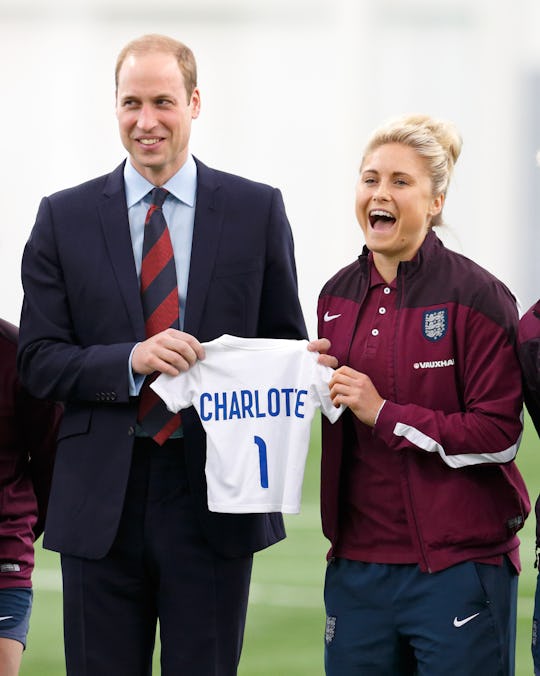 Max Mumby/Indigo/Getty Images Entertainment/Getty Images
Princess Charlotte Is Ready To Be A Soccer Star, Too
She needs people to know she's "really good at goal."
Royal fans are all well aware that the 8-year-old future king Prince George is a big soccer fan. We've seen him cheering on his favorite team, Aston Villa, alongside dad Prince William. We know he loves to play soccer, that his dad has gone to his soccer games and even taken photos with the opposing team so he doesn't look like he's playing favorites. But it turns out Prince George has a little competition with 7-year-old sister Princess Charlotte. The Duke of Cambridge says his daughter is a future soccer star, and she wanted England's Women's Team to know that she's pretty good at the game herself.
Prince William met with England's Women's Team at St. George's Park in Burton-Upon-Trent to watch a training session on Tuesday, where he was actually given three customized football (soccer) jerseys for his kids. One for Prince George, one for 4-year-old brother and Platinum Jubilee superstar Prince Louis, and one for Princess Charlotte. When Prince William saw his daughter's name on the jersey, he laughed and told the team that his daughter actually had a message for them, "Charlotte wanted me to tell you that she is really good at goal. She said 'Please tell them that.' She's a budding star for the future," the proud dad told the players.
It's almost like she was vying for a position on the team by proxy.
Princess Charlotte is already developing an eclectic mix of interests at the tender age of 7, whether she's off perfecting her royal wave alongside her great-grandmother Queen Elizabeth, dancing her little heart out to Shakira, or apparently mastering the soccer pitch.
To date, Prince George has been the one joining his parents at soccer matches like the Euro Cup Final on his own. It makes sense, he is the oldest child and, from my keen observations at any rate, the safest bet to behave in public out of the three Cambridge children simply because of his quiet nature. But it looks like he might get some company on the soccer pitch sooner than later. Prince William might have to start splitting his time between his kids' matches along with wife Kate Middleton. Now if Prince Louis also takes up a love of soccer, his parents might as well buy a minivan and embrace their fate as soccer parents.