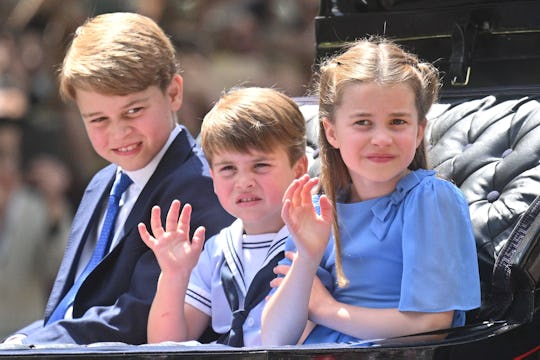 Samir Hussein/WireImage/Getty Images
This Video Of Princess Charlotte Stopping Louis From Waving Is Such A Big Sister Move
We know who the boss of this family is...
The Platinum Jubilee might be a bash to honor Queen Elizabeth, but it's becoming clear who the real boss in the family is. In a pretty hilarious moment caught on camera during the royal ceremony, Prince George, Princess Charlotte, and Prince Louis all rode in horse-drawn carriage to honor their great-grandmother's 70 years in service. But even during a once-in-a-generation celebration, the famous family shows how they can be just like the rest of us with a sibling pecking order firmly in place. As the children of the Duke and Duchess of Cambridge were whisked through the crowds, 7-year-old Princess Charlotte made sure to put her little brother Louis in his place when he was waving just a little too much and little too enthusiastically for her taste. After all, she is three years older and wiser than her baby brother.
In a video tweeted out by the Royal Reporter, Prince Louis is sweetly smushed in the middle of his siblings and sitting right across from his mother as well as Camilla Parker-Bowles (aka GaGa). Once again, the most famous family across the pond is color-coordinated in blue, much like their festive Easter holiday ensembles. Of course, it's customary for royals to wave at the throngs of fans who come out to support and watch their every majestic move.
Prince Charlotte and Prince Louis both partake in the tradition until Princess Charlotte, who is famously expressive, decided that her little brother's waving was overkill. So in a sassy power move, the big sis gently slapped her little brother's arm down, as if to silently communicate: "Okay, that's enough waving, Louis!"
The youngest of the royal kids, 4-year-old Louis might have stolen the show in his mini sailor suit, but it's clear he still takes his orders from his older sister.
Of course big brother Prince George still found a way to distinguish himself (without even resorting to his go-to strategy of silly faces). In a bold new move the 8-year-old showed just how mature and unbothered he was by opting not to wave to anyone at all. Looks like future king has put his family and the world on notice of the following decrees moving forward: he's not going to hold hands with his parents in public anymore, and he might be too cool for waving, too.