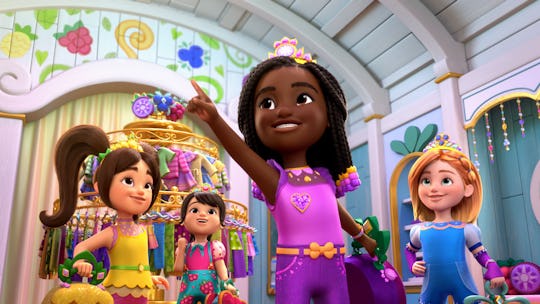 COURTESY OF NETFLIX © 2022
Watch How A Group Of Princesses Save The Day In Netflix's New Animated Series Princess Power
Over the years — as women and girls have grown to appreciate their power and possibility — princesses have gotten a bad rap, considered by some to be a relic of a less enlightened age. But here's the thing: some of us (feminists included!) never stopped loving the tiaras and poofy dresses and tea parties, even if we knew the way we depicted princesses (two-dimensional, decorative) needed work! Enter Princess Power, a new series coming to Netflix on Jan. 30, and we have an exclusive sneak peek!
Based on the #1 New York Times Bestselling book series Princesses Wear Pants by Savannah Guthrie and Allison Oppenheim, Princess Power follows the adventures of Penny Pineapple, Kira Kiwi, Bea Blueberry, and Rita Raspberry, four princesses who understand that "Princess is a Verb" and princesses have a responsibility to help people! And these bold girls embrace public service and sparklicious tea parties with equal zeal. These friends (with the help of their adorable pets, naturally) will entertain audiences with the perfect blend of excitement, enthusiasm, laughter, spirit, and song... and no lack of poofy ballgowns (though they'll often want to wear pants, too!) Some of us might have missed out on empowering female role models as little kids, but fortunately we can do better for the next generation of princess do-gooders with core messages of inclusivity, diversity, community, teamwork, and friendship.
"When Allison and I wrote the book Princesses Wear Pants, the story we wanted to tell was about girl power, about staying true to oneself while getting the job done," says Savannah Guthrie, Princess Power executive producer and co-author of Princesses Wear Pants. "And knowing our daughters, we knew they loved the princess concept for all the frills and fame, but we also wanted to show them the jewel of an opportunity for leadership that goes along with that role, and how they could take action and make the world a better place."
"When my daughters were young, I was thrilled to discover the Princesses Wear Pants books and knew the creative, empowered Penelope and her royal friends could inspire my girls in a beautiful way," says Drew Barrymore, who serves as an executive producer on the series. "We enjoyed reading their imaginative and action-oriented adventures together and then went off to have our own! I am happy to pay that positive energy forward by introducing Princess Power to our next generation of amazing girls who can make the world a better place through practicing kindness and taking action together, crown or no crown!"
In Romper's exclusive clip, the princesses work together to help one of the Fruitdom's (yes, that's what their kingdoms are called) biggest subjects: a beached whale!
Princess Power will premiere on Netflix on Jan. 30.