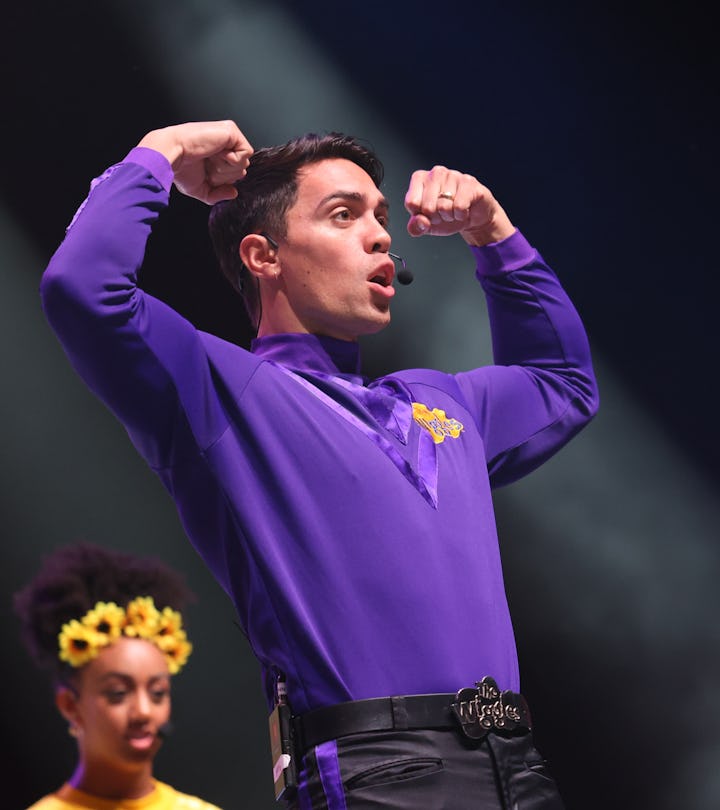 Dave Simpson/WireImage/Getty Images
The Purple Wiggle Is A Total Thirst Trap & Moms Are Drinking Him Up
They call him "Big Strong John" and we'll drink to that...
One of the more unfortunate concessions we must make when we make the decision to become parents is to be subjected to children's entertainment for years. But every now and then, fortune truly smiles on us poor exhausted mothers, and recently it has come in the form of John Pearce aka Big Strong John of the Wiggles. We won't beat around the bush: the new purple Wiggle is an absolute thirst trap and, honey, we're bringing our straws... and maybe a funnel.
The children's entertainer has made a splash on social media, posting videos to TikTok and Instagram. While entirely G-rated and "SFW," the videos show more than viewers see when he's in his Wiggles turtleneck. (Specifically his toned arms full of tattoos.) This video of Pearce transforming from an undershirt and gym shorts into his Wiggles uniform to the tune of The Wiggles' "Do The Monkey" has been viewed 2.9 million times as of press time (not all of those views are me, honest). This recreation of an iconic moment from Zoolander, with Pearce playing the roles of both Derek and Hansel (in a cut-off shirt and his Wiggles ensemble respectively) has garnered 4.6 million views. (Only a few thousand of those are mine...)
Reactions in the comments and on TikTok have been low-key hilarious.
"Ok my sons are 22, 26 & 28...do you think they want Wiggles Concert Tickets for Christmas???" writes ClaireVictoria43 in response to one video.
"Saving this to my favourites.. because…. My kids might like to watch it later," agrees HollyLuki.
"When did I get to the age that wiggles became different kinda daddies," muses EllGuest8.
Twitter was similarly pumped up.
Twitter user @Venusian_Rising, not a parent, was similarly hot and bothered.
Twitter user @cal_gif put it more crudely: "Who was going to tell me the wiggles fck now?"
While touted lately as a "new" member of the Wiggles, the term is fairly relatively. Pearce joined the group in 2021 along with Evie Ferris, Kelly Hamilton, and Tsehay Hawkins in a concerted effort to diversify the group so that more genders, races, and ethnicities could be reflected back to young, international audiences. These cast members debuted in an exclusive web series entitled Fruit Salad TV and went on to perform in the live show in 2022.
Moreover, this isn't Pearce's first big break: in 2010 he won Australia's Got Talent with his music/dance troop Justice Crew. The group went on to be nominated for eight ARIA Music Awards. In 2017, he was featured as a personal trainer on Australian Ninja Warrior.
Oh. And also he got married in 2019 to Jessica Pearce, and the pair have been together since 2012. Both she and possibly child (we can't confirm who this happy little fellow is) are really adorable. So, sorry, thirsty moms and dads (and childfree folks who can admire Big Strong John regardless) who had dreams of being Mr/s. Purple Wiggle. Still, as long as you keep it respectful in the comments I feel like looking is probably fine...