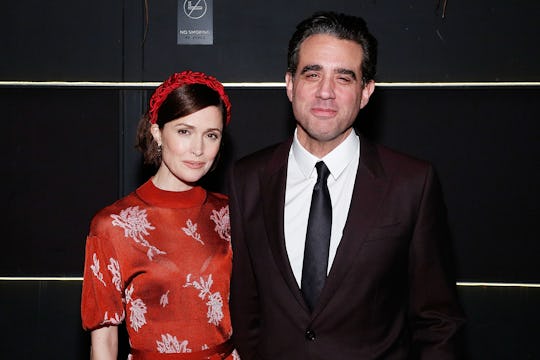 Lars Niki/Getty Images Entertainment/Getty Images
Rose Byrne Shares Two Adorable Sons With Bobby Cannavale
The Platonic star once said being a mom of two "is the most wild, magical thing," but she's also constantly "trying to put out fires."
Rose Byrne has played a mom struggling to hold it together more than once in her career. In Bad Neighbors alongside Seth Rogen, and more recently in the new Apple TV+ series Platonic, again with Rogen, who is not a parent himself and has openly admitted that he thinks parenting "does not sound fun" in the past. Does this same logic apply to his co-star? How does Byrne feel about parenting? Well unlike Rogen, she must think parenting is at least a little bit fun because the Australian actress is a mom of two sons, Rocco and Rafa, with her partner Bobby Cannavale. Here's everything you need to know.
Rose Byrne has been in a relationship with Bobby Cannavale since 2012.
Byrne first met Cannavale through mutual friends in 2012, when the actress was working on the legal drama series Damages with Glenn Close, who told Vanity Fair that their chemistry was "so remarkable." The couple went on to date for several years while also frequently co-starring in projects like 2014's Annie and 2015's Spy along with Cannavale's longtime friend Melissa McCarthy. "[Acting together] is a very intense thing you can experience together," Byrne told People. "It's not for everybody, but I think he's such a great actor."
She must have also thought he was a great dad. Cannavale was already dad to son Jake with ex-wife Jenny Lumet, born in 1998 and also an actor. And of course, a big brother of two.
Their son Rocco Cannavale was born in 2016.
The couple welcomed their first child together, son Rocco Robin, in February 2016. "We just love the name," Cannavale told People in 2016 when asked about his new son's name. "His middle name is her dad's name, Robin, and we liked the way it rang together." He went on to tell Stephen Colbert on The Late, Late Show that he and Byrne were "just really, really over the moon. We're in bliss right now."
Their second son Rafael "Rafa" Cannavale joined the family in 2017.
Rocco became a big brother when baby Rafael was born in 2017, and dad Cannavale opened up about the inspiration for his name as well. "I hadn't given one of my children a Latin name yet, so I wanted to honor my mom's side of the family," he told Entertainment Tonight at the time. "And, you know, Rafael Nadal had such a great year and we were constantly keeping up with him and watching all his matches so we were like, 'How about Rafa? That goes well with Rocco.' And that was it."
Life as a mom of two is "trying to put out fires all the time."
Byrne admitted in a 2019 interview with Who magazine that she is "not by any means a completely in-control parent" with her two little boys, per The Daily Mail. "I definitely am trying to put out fires all the time." While she might have her struggles, the actress went on to add, "There's a bit of a code about revealing how challenging it can be — which I am now breaking - but it's also like the most wild, magical thing."
That's just about the most perfect description of parenting ever.