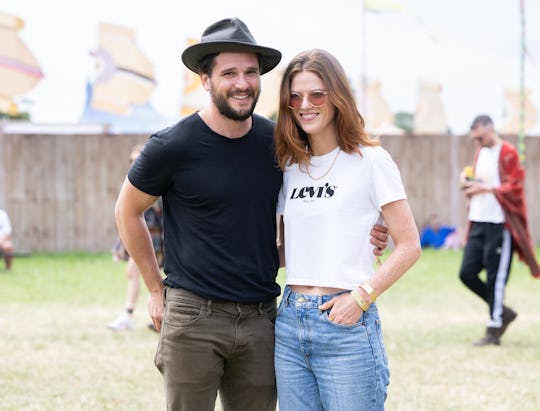 Samir Hussein/WireImage/Getty Images
Kit Harington Announced His Wife Rose Leslie Is Pregnant With Their Second Child
"This time, the reality check comes much shorter."
Kit Harington is going to be a dad of two! The actor just announced that he and his wife Rose Leslie, who he met while the two were filming Game of Thrones together, are expecting their second child. And he is understandably quite excited about it. Or, perhaps "excited" isn't the right word. More like "terrified" to be honest.
Harington sat down for an interview with fellow dad Jimmy Fallon on The Tonight Show recently to discuss his new film Baby Ruby, in which he plays a new dad trying to cope with his wife's postpartum psychosis. He also chatted about his 2-year-old son, who is "about to get the shock of his life," Harington told Fallon, because "he's about to get a little brother or sister."
After the applause died down over his revelation, Fallon asked Harington if he was excited. "I'm terrified," he admitted. "You know, with the first baby you're like walking on clouds and dancing through fields of daisies for nine months — well, the man is anyway. But this time, the reality check comes much shorter. You get practical real quick."
Harington went on to talk about how his son, whose name he has not shared publicly, is feeling about becoming a big brother. Apparently he hasn't "quite conceptually understood it just yet."
"We're trying to get him ready for it," the proud dad continued. "We point to Rose's tummy and we say, 'Mommy's baby, mommy's baby.' And he points to his tummy and goes, 'My baby.' I'm quite sure that's — yeah, you'll know soon enough." Fortunately both Harington and Leslie believe their son is "quite smart" so he should figure things out soon enough. Especially once his baby brother or sister arrives.
The Game of Thrones actor has managed to keep details of his family life private, but did open up about his role as a "modern father" in a 2022 interview with People. "We are now becoming more involved in child raising and as a modern father, there is a real feeling of being a bystander at times," he told the magazine. "You are not actively involved in the process of growing the child and there can be a real feeling of not knowing what is going on, what emotions are happening, what the mother or your partner is going through."
Now with his second baby on the way, Harington will have to deal with a toddler as well as trying to be a full and present partner for his wife. No wonder he's nervous.