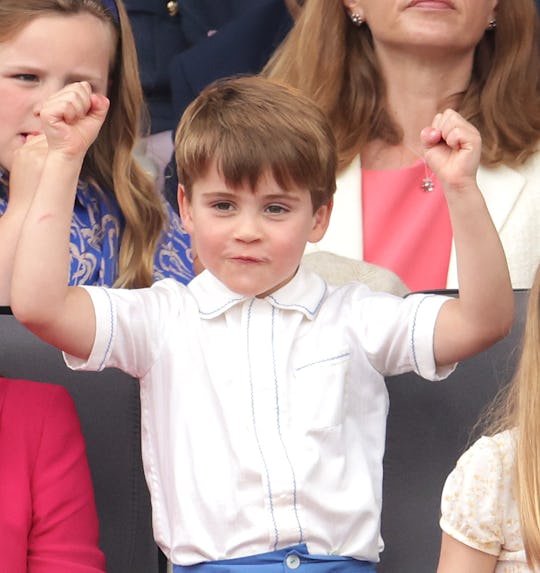 Chris Jackson/Chris Jackson Collection/Getty Images
The Royal Kids Were Apparently Riding A "Real Sugar High" During The Queen's Jubilee
Even a little prince is no match for the unruly powers of sweets!
The Platinum Jubilee might have been intended as a celebration for Queen Elizabeth, but the royal kids stole the show with their medley of cuteness and mischief. Mike Tindall, who is married to the queen's granddaughter Zara, offered a peek behind the majestic curtain to explain what might have caused the youngest attendees to act up in such a spirited fashion. The former Rugby player spilled the tea in a recent podcast and pulled a move from every parent's favorite finger-pointing playbook — blame the sugar. Turns out the youngest Jubilee-goers weren't hyped up on "Gan-Gan's" 70 years of service, they were just riding a major sugar high.
In his first appearance since the whirlwind of the Platinum Jubilee, Tindall appeared on the podcast The Good, The Bad, & The Rugby, and gave some insight into the ways the royal kids are just like everyone else's children who are forced to actually sit down at any event for more 20 minutes. Tindall knows a thing or two about what it takes to wrangle a restless kid as he shares three children — 8-year-old Mia, 3-year-old Lena, and 1-year-old Lucas — with his wife.
"It's tough for them. They're all young. It's a long time," Tindall said. "But as any parents know, you just do whatever needs to be done."
Enter the British snacks! Seriously, check out this epic cake from the Jubilee lunch:
"Louis, he was just wanting to have fun. And my two [daughters, Mia and Lena] are always mischievous, so it's trying to keep a lid on. There were a lot of sweets out back though, so there was a real sugar high," Tindall continued.
Exhibit A: the apparent peak of Prince Louis' sugar high, before he started to antagonize his patient mother with those memorable faces, thereby eliciting the parenting experts of Twitter to unleash their unsolicited opinions.
While the Duchess of Cambridge was probably less than thrilled with the task of containing her cheekiest third child's antics as millions of people scrutinized her every move, fans of the royal family were especially delighted by Prince Louis' feistiness.
With all the pomp and circumstance of the Platinum Jubilee, it's fun to see the royal kids just being kids. They're just like the rest of our candy-guzzling children — powerless in the face of yummy treats and sweets.