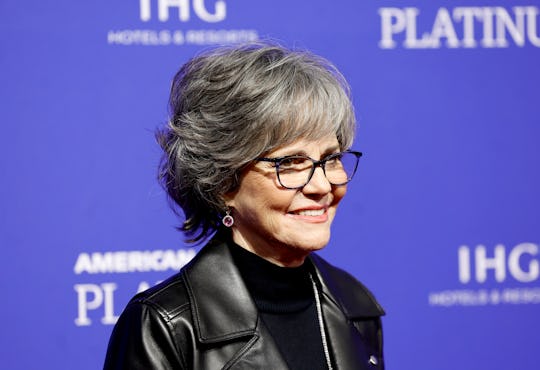 Frazer Harrison/Getty Images Entertainment/Getty Images
Sally Field Is The Ultimate Cool Mom Who Once Tried To Set Her Son Up With An Olympian
The accomplished actress is a proud mother of three talented sons.
Sally Field is one of those names that has simply become the fabric of our lived experience. She's been working in movies and on television since she first landed the title role for the television series Gidget in 1965, and after nearly 60 years onscreen she's being awarded with the Lifetime Achievement Award at the Screen Actors Guild ceremony in 2023. A well-earned, major career accomplishment for certain. One she will undoubtedly celebrate with the men in her life — her three cherished sons, her greatest accomplishments.
"The three things I'm most proud of in my life are my sons," Field told Closer Weekly. "They are kind, loving, productive people. Each with their own list of talents and accomplishments." She's not wrong. Each of her sons is truly accomplished in a way all their own. Here's what else you need to know about Field's three children.
Her oldest son, Peter Craig, was born in 1969.
Sally Field became a first-time mom when son Peter, who she shares with ex-husband Steven Craig, was born in 1969. Peter is now 53. While she and her husband would eventually divorce in 1975, they were fortunate to welcome two sons together.
Her second son, Elijah "Eli" Craig, joined the family in 1972.
The early '70s were certainly a busy time for Field, with her acting career taking off in that era and raising two little boys at the same time. She and her ex-husband welcomed son Elijah in 1972, and it seems both of her sons must have learned a thing or two watching their mom in the early days because they both found their way into the entertainment industry.
Peter became an accomplished screenwriter.
Peter Craig is a huge success in his own right as an author and screenwriter with titles like the first and second Hunger Games films, The Town, Top Gun: Maverick, and is currently working on Gladiator 2.
Peter also has three children of his own, making Field a grandma.
Her son Eli is a movie director.
Elijah Craig became a successful director and writer as well with a penchant for horror, best known for movies like Little Evil, The Rage: Carrie 2, and the television movie Zombieland. Like his older brother Peter, Eli is also a dad of two with wife Sasha Craig, who fans might remember as the Yellow Power Ranger.
Her youngest son, Samuel Greisman, was born in 1987.
Very much the baby of the family. Field welcomed her youngest son Samuel with ex-husband Alan Greisman in 1987. Like the rest of his family, Samuel has grown up to work in the entertainment industry at a young age. At 19, he wrote, produced, and directed Dinner with Jeffrey for film school, tapping into his own lived experience as a gay man as inspiration.
Sally Field wanted her son Sam to date Adam Rippon.
Field could not have been more supportive of Sam's decision to share his coming out story. "It's important to have a parent speak about raising a magnificent, proud, intelligent, funny, lovable, sexy gay son," Field told OWN in 2012. "There are so many parents who are frightened of that and who don't embrace their children as they struggle to ... embrace who they are, what nature intended them to be."
So much so, in fact, that when Sam admitted to his mom that he had a crush on Olympic skater Adam Rippon in 2018, she texted him, "Sam... he's insanely pretty. Find a way..." She went even further when Sam shared a screenshot of her text by tagging Rippon in the tweet.
Now that's a cool mom.