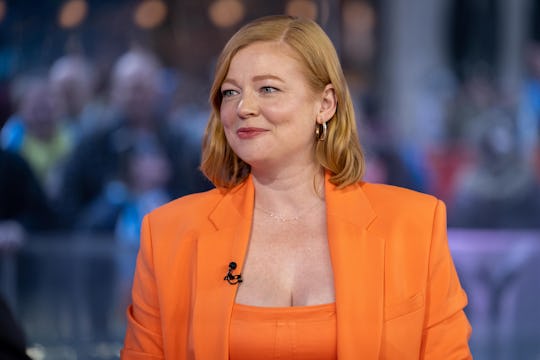 NBC/NBCUniversal/Getty Images
Sarah Snook Reveals She Gave Birth In An Emotional Succession Instagram Post
The actress who played Shiv on HBO's hit series said her "life has changed again."
As HBO's hit series Succession came to an end on Sunday, one cast member is celebrating a new beginning. Sarah Snook, who plays Shiv Roy, has officially welcomed her first baby and she shared the news of her little one's arrival with an emotional post honoring the series that was a "crazy adventure" for her. Even as she prepares to start a new crazy adventure of her own as a mom.
Snook first revealed that she and husband, Australian comedian Dave Lawson, were expecting their first baby back in March when she arrived at the Season 4 premiere of Succession wearing a black dress that highlighted her baby bump. At the time, she told Entertainment Tonight that she only had two more months to go as she was at 32 weeks, and Snook appeared to be bang on the money. Because two months later, she shared a photo of her baby on Instagram. Well, the top of her baby's head to be precise. Snook did not share details about her baby other than the fact that she and her little one were watching the final episode of Succession together — and that her "life has changed again."
"It's hard to express what this show has meant to me. The places I got to go, the immense talent I got to work with…it breaks my heart that it is all over," she began her post. "But my heart had to be this full of all the memories, good times, challenges and triumphs, to be able to break at all…so that makes me grateful."
"I just watched the final episode of the final season of something that has changed my life. And now, my life has changed again," the new mom added. "Thank you for all the love and support."
Several celebrity followers congratulated Snook on her work on the critically-acclaimed series, like Melanie Lysnkey who wrote, "You occupy a space somewhere beyond 'amazing.' I am in awe of your work ❤️❤️❤️ I will miss this show but can't wait to see what you do next!!"
As for what she is doing next, some followers picked up on the "little head" in the photo. "Congratulations Sarah. (And a second congratulations on that little head too in frame too)," wrote The Originals star Phoebe Tonkin
This final season of Succession saw her character Shiv reveal that she was pregnant, which means her own pregnancy was written into the show. Which technically means her baby starred on the series, so it's lovely that the two were able to watch the final episode together. On to the next chapter.