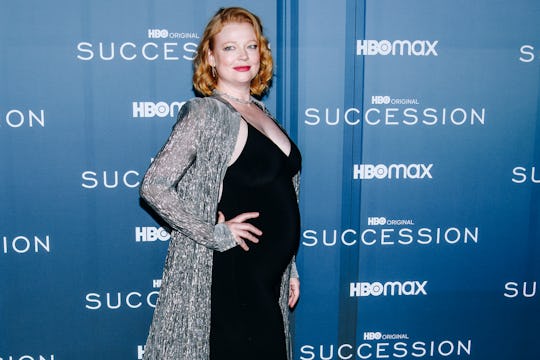 Nina Westervelt/Variety/Getty Images
Succession Star Sarah Snook Revealed She's Pregnant At The Season 4 Premiere
There's going to be another member of the Roy family scheming for a spot in the line of Succession. Sarah Snook, aka Shiv Roy from the hit HBO drama, recently confirmed that she is expecting her first baby with husband Dave Lawson. And she confirmed it at the Season 4 premiere of Succession wearing a stunning dress to show off her baby bump, no less. That's a power move if we've ever seen one.
Snook arrived at the premiere in New York City on Monday wearing a long fitted black dress and a silver lace coverup that did not cover up her burgeoning baby bump, which she could not have looked happier to share with the world.
"It's exciting!" Snook told Entertainment Tonight when confirming her pregnancy. "I feel great." This will be the first baby for 35-year-old Snook and her husband, Australian comedian Dave Lawson, and it seems the couple "don't have too much longer" to wait before welcoming their baby. "Like two months? Well, I'm at 32 weeks," she told the outlet.
Snook and Lawson have had a long, lovely journey to parenthood together. The couple got married in 2021 in the backyard of their Brooklyn apartment after being locked down together throughout the pandemic. "At the beginning of the pandemic last year, I got locked down in Melbourne with one of my best mates and we fell in love," Snook told Vogue Australia in November 2021. She explained that they had been friends for years
Snook said that she and Lawson, 44, had been friends for years before striking up a romance, explaining to Vogue Australia that they had "been friends since 2014, lived together, traveled together, always excited to see each other, but totally platonic." Then the pandemic happened, they got married, and now the couple are expecting their first baby together.
A baby who, in fact, got a little screen time during the filming of the fourth and final season of Succession. Snook told Entertainment Tonight that she shot scenes while expecting her new baby, although it was fairly early days in her pregnancy. "I mean, you couldn't''t super tell," she told the news outlet. "Because it's not super big, at least at the moment."
Not even born yet and starring in an HBO smash hit series. That's the real power move here.