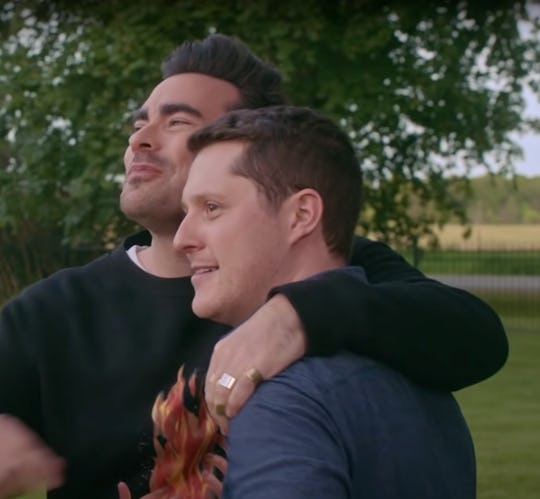 17 Sweet & Sappy Schitt's Creek Quotes About Love
Share these quotes with your bébé.
Known for it's funny one-liners and hilariously absurd plot points, Schitt's Creek may not immediately strike you as a show about love (I mean the show's title isn't especially romantic). But if you really stop to think about it, there are actually a ton of loving relationships in the show: there's Patrick and David, Alexis and Ted, Roland and Jocelyn Schitt, and of course, Johnny and Moira. And while it may not be romantic, the Rose family has a lot of love and respect between them, dysfunctional as they may be. These Schitt's Creek quotes about love are surprisingly heartwarming and will show you that beyond just laughs, the show is very thoughtful.
If you're stuck on what to write in a Valentine's Day card, why not let David (or Alexis or Patrick) do the talking for you. Whether you're telling your SO that you love them more than a wig you've had for 40 years (trust me this is a massive compliment coming from Moira) or you keep it simple a la Patrick and say "I've never been happier in my life," this sweet quotes are perfect whether you're relaying them to someone else or just trying to read something that will make your smile.
Read on for some of the best Schitt's Creek quotes about love.
If you're at loss for words this Valentine's Day (or any day that you want to tell your partner how much you care) then turn to these love quotes from Schitt's Creek to express how you feel.