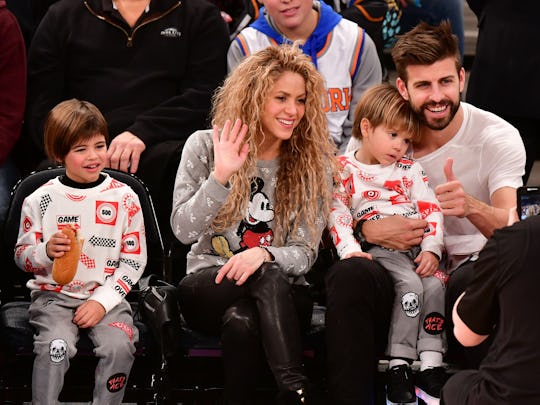 James Devaney/Getty Images Entertainment/Getty Images
Shakira's 7-Year-Old Son Wants To Be A Dancer Like His Mom & He's Got The Moves
"The little one claims that he's a dancer, too, but we'll see, we'll see."
Sometimes kids aren't really into what their parents do for a living. But when your mom is a gifted performer like Shakira, it's a little different. Who can blame Shakira's son for saying he's a dancer like his mom? With any luck he's inherited some of that amazing talent and they can hit the road as a mother/son dancing act. I would pay money to see that.
Shakira spoke to E! about her 9-year-old son Milan and 7-year-old son Sasha, both of whom she shares with soccer star partner Gerard Piqué, and their inherited affinity for music. "They're interested in music," she said. "They play a little bit of drums and keyboards, but I don't know how much of dancers they're gonna be. The little one claims that he's a dancer, too, but we'll see, we'll see. They're still very little."
The "Hips Don't Lie" singer shared a sweet video of her sons dancing with her last August, something she told E! is a rarity for her. "I don't usually post stuff with my boys, but one time, we were just dancing in the living room with them, and I thought they were so cute," she said. "I couldn't help. I had to share it."
The Dancing With Myself host is no stranger to choreography, so her son already has a leg up if he does want to be a dancer. And certainly, his mom will be there for him however she can; her kids have become the center of her universe. Speaking to Hola! in 2017, Shakira called motherhood "the hardest job I've ever had. I never thought it'd be so difficult, because it takes a lot of your energy. I think of my family a lot; I'm concerned about them all day. It's physical, emotional, and intellectual wear and tear."
Fortunately her two boys make all of that emotional wear and tear worth it. This past Mother's Day, Shakira posted a photo of her boys kissing her on the cheek with the message, "With one kiss they can cure it all and make it worth your while to keep fighting for them. Happy Mother's Day!"
Now that they're proving to be good dancers, they should add a choreographed number for their next Mother's Day celebration.