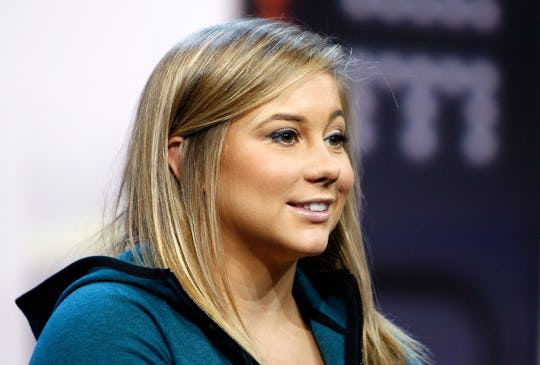 Mike Lawrie/Getty Images Sport/Getty Images
Shawn Johnson Says Nashville School Shooting "Changed" Her In Emotional Post
"I woke up scared to take our babies back to school or anywhere for that matter. I woke up sad for everyone, for our country, our world."
On Monday, a heavily armed gunman opened fire inside The Covenant School in Nashville, Tennessee and killed six people, including three children who were just 9 years old. Parents across the country are grieving, heartbroken, and trying to cope once again with the grim reality of gun violence in America. Yesterday's mass shooting hit especially close to home for Shawn Johnson East, who lives in Nashville with her family, as her children's school was in lockdown as the tragedy unfolded.
The former Olympian shared on Instagram that her 3-year-old daughter Drew and 20-month-old son Jett, who she shares with husband Andrew East, were at school when the Nashville mass shooting happened. "I haven't been able to catch my breath since reading the news and getting a call from our school that they were on lockdown as well given the news," Johnson East wrote on her Instagram Story on Monday, adding that she was, "Shaking. Crying. Heartbroken. Horrific." While her own children fortunately made it home safely, Johnson East couldn't help but think about the parents and families who were not so lucky.
"I feel lucky and blessed but still so incredibly sad. No parent or family should ever have to deal with this," she continued. "I've seen childrens [sic] ambulances, countless police cars, buses of children being transported to safety, parents flying down the street laying on their horns, people sprinting in and out of churches and schools looking for their kids. Today has changed me."
Johnson East was filming close by when "chaos ensued," she explained on Instagram. "When we started getting the calls, heard the sirens, saw the parents flying to get their babies. All of us calling our own schools to check in. Learning that every school was also under lockdown. Racing to pick up our own babies just to have them home and close. Hearing the news slowly come in about the 3 beautiful babies and the 3 staff members that were unfairly taken away from our world and their families."
"I woke up this morning in tears feeling guilt and sadness that we are ok and some families are not. I woke up scared to take our babies back to school or anywhere for that matter," she added. "I woke up sad for everyone, for our country, our world."
Johnson's husband Andrew East posted about the horrific day as well, noting on Instagram, "we got notified of an active shooter in our neighborhood this morning. We rushed to school to pick up the kids. We found out the shooter was not at our kids school, but one right in the vicinity. Our family is safe, but can't imagine what some other families are going through." He shared footage of Johnson hugging their daughter and police cars driving by their home.
Monday was a horrible situation for so many parents, and it was a situation that has become all too familiar. Gun violence is now the leading cause of death for children and teenagers in the United States. There are all sorts of ways to support common sense gun control. Perhaps now will finally be the time to make it happen.