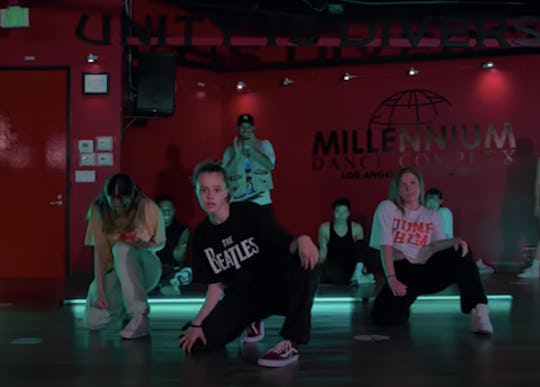 Hamilton Evans Choreography/YouTube
Shiloh Jolie-Pitt Shows Off Her Impressive Dance Moves In Viral Video
The apple doesn't fall far from the talent tree!
Move over Brad and Angelina! Looks like one of the kids from their famous brood of six is stealing the spotlight with some serious dance moves. Shiloh Jolie-Pitt might only be 16 years old, but she's growing up fast and dances like a pro. In a viral video, Jolie-Pitt showed off her amazing choreographed hip-hop routine to Doja Cat's song "Vegas" from the Elvis soundtrack. And one thing's for sure — talent definitely runs in this family.
In the viral video released by Hamilton Evans Choreography, Jolie-Pitt is the epitome of understated cool with her oversized Beatles t-shirt, black baggy pants, and laid-back kicks. After a few groups of dancers did their thing, Jolie-Pitt took center stage and wowed the crowd with her back bends at the Millennium Dance Complex, one of Hollywood's hottest dance studio with an impressive celeb following.
Indeed, Jolie-Pitt won't be lonely as the only famous person to dance down their hallways. Pop superstars like Pink and Britney Spears have graced the rehearsal spaces where Jolie-Pitt now dances, according to the studio's website. Usher said of Millennium: "This studio is like my home away from home." Justin Timberlake also shared some love: "Millennium, you guys always come through."
While Jolie-Pitt doesn't even have a public social media account, she still managed to break the internet and get everyone's attention. Fans definitely can't get enough of the little mover and shaker, and accounts like Shiloh Jolie-Pitt Dance have even been set up on YouTube where you check out Shiloh in choreographed dances to Dua Lipa, Lizzo, Ed Sheeran, and Usher.
With a long custody battle and all the recent vineyard drama between her parents, it's great to see that Shiloh has discovered a creative outlet to express herself and showcase her obvious gifts. And even though things might not be exactly amicable between her mom and dad, Jolie-Pitt's parents definitely agree on one thing — they support their daughter's dancing 100%. "Brad and Angie are both very proud. They'd have no issue if she wants to turn pro, but they're not pushing it on her by any means," a source told Us Weekly. Since their split, Pitt and Jolie also share custody of children Pax, Zahara, Shiloh, Vivienne, and Knox.
With two A-Listers for parents, it's no surprise that Jolie-Pitt would hit the talent jackpot. And while her parents are of course known for their acting chops, a little Google deep dive reveals that Angie and Brad have been known to get down too. The dance-off verdict? While Angelina Jolie makes a swell dance partner, Shiloh likely gets her show-stopping moves from her dad.