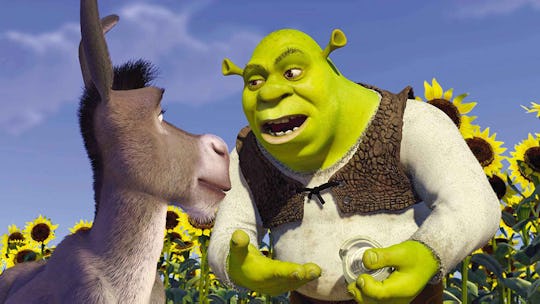 DreamWorks
Eddie Murphy Said He'd Reprise His Role As Donkey In Shrek 5 In "2 Seconds"
Just keep peeling back those onion layers, everyone. We'll get there.
It's been 13 years since the world has seen a new Shrek animated feature from DreamWorks. Shrek Forever After hit theaters in 2010 if you can believe it, which feels somewhat impossible to imagine considering the big green ogre and his friends really carved out a place for themselves in the world of animation. Equal parts wry and sweet, unusual and inspiring, there's never been anyone quite like Shrek and his buddies Donkey and Puss in Boots. And so it is with great excitement that we prepare ourselves for Shrek 5, even if information is a little sparse on the ground at this point. But here's everything we know so far.
Shrek 5 has been in the works since 2016.
A fifth installment in the Shrek universe was initially announced in 2016 when Eddie Murphy, voice of everyone's favorite Donkey, confirmed that a script had been attached to the new film. "We have a fantastic script for Shrek 5," Jeffrey Katzenberg, CEO of DreamWorks Animation, said in 2016, according to The Hollywood Reporter.
In a January 2023 interview with Etalk, Murphy said he would happily reprise his role. "I'd absolutely be open if they ever came with another Shrek, I'd do it in two seconds. I love Donkey," Murphy said earlier this year. "You know, they did Puss in Boots movies. I was like, 'They should have did a Donkey movie. Donkey is funnier than Puss in Boots.' I mean, I love Puss in Boots, but he ain't funny as the Donkey."
Still, there's been little to no word on how the fifth movie might be progressing. According to Screenrant, there were reportedly some issues along the way with direction and plotlines. While it's frustrating to have to wait, of course, Puss in Boots himself, Antonio Banderas, recently shared an exciting update.
Antonio Banderas recently teased that another Shrek movie is "probably" coming.
In December 2022, Antonio Banderas spoke to an audience about his Oscar-nominated movie Puss in Boots: The Last Wish, the first film from the franchise to hit theaters since 2011. Banderas told the audience at the Red Sea Festival, according to Deadline, that Shrek is "probably" coming back. "I've been with this cat for almost 20 years. The first time I did Puss in Boots, I was working on Broadway, so I did my first session there. I've done five movies now. There is probably gonna be another, and [Shrek] is probably coming back," he said at the time.
Where would Shrek 5 pick up?
At the end of Shrek Forever After, Shrek (Mike Meyers) and Princess Fiona (Cameron Diaz) defeat the evil Rumpelstiltskin (Walter Dohm) after he takes over the kingdom of Far Far Away. Fiona saves the day with "true love's kiss," which the two of them should consider copyrighting at this point, and everyone other than Rumpel and his witch army seem bound to live happily ever after, including Donkey (Eddie Murphy) and Puss in Boots (Antonio Banderas).
Screenwriter Michael McCullers also confirmed that Shrek 5 is in development in an interview with The Hollywood Reporter in 2017. "Shrek 5 is being developed. I finished that script, which I really, really, really love. It's really personal to me. It's got a pretty big reinvention behind it that I guess I can't really reveal, but since DreamWorks was sold to Universal in that time for over $3 billion, I imagine they're particularly interested in it stepping up and actually figuring out the future of the franchise in that way on the corporate level," McCullers explained at the time. "Reinvention was sort of called for. There's been four movies and a lot of material, so the characters are pretty beloved and they're great characters, but you also have to think of a pretty new take at that point."
There is still no release date set for Shrek 5.
Unfortunately, no release date is on the horizon at this point. For now we will have to bask in the continued glow of the first four Shrek movies, all available to stream on Peacock. Just keep peeling back those onion layers, everyone. We'll get there.