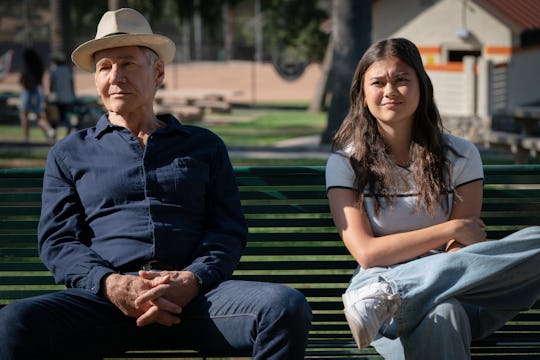 Apple TV+
Everything We Know So Far About Shrinking Season 2
The feel-good comedy comedy has officially been renewed for a second and third season.
Shrinking on Apple TV+ became a hit as a feel-good comedy in its first season. After all, who doesn't want to see Jason Segal and Harrison Ford as therapists trying to deal with their own messed up relationships? The pair has excellent chemistry, as did the rest of the cast, and now everyone is ready for Season 2 of Shrinking.
Note: Spoilers for Season 1 of Shrinking on Apple TV+ are ahead.
Will there be a Shrinking Season 2?
Yup! Before the Season 1 finale aired on March 24, Apple TV+ officially announced that a second season of Shrinking was imminent.
"We have loved the engaging, touching and hilarious world of Shrinking since the beginning, and it has been wonderful to watch as audiences around the world continue to connect with these big-hearted characters," Matt Cherniss, head of programming for Apple TV+, said in a statement to Deadline. "We can't wait for viewers to experience what the cast and creative team have for Season 2."
What's more, the show has also been renewed for a third season, so you know you have at least two more to go.
Where did Shrinking Season 1 leave off?
The first season of Shrinking introduced us to Jimmy, a therapist and grieving widower and dad to 17-year-old daughter Alice, living in a gorgeous home in California where he is completely dropping the ball. He is failing at his job, failing as a dad, failing as a friend. Until he decides to try something different with his clients and tell them the truth about their lives. Really engage. This opens the door for some relationships, like his lost friendship with Brian, but worries his fellow therapists Gaby and Paul. Especially when he invites army veteran and patient Sean to live in his guest house. No one is happy about that. Especially his super invested neighbor Liz. Yet somehow Jimmy's choices end up bringing everyone together. At the aforementioned gorgeous home which makes for a beautiful world indeed. Plus Harrison Ford as Paul is more watchable than ever.
By the end of the first season, Liz and Gaby have become the friend power couple we always knew they could be, while Alice is really starting to dig into some deep trauma over the loss of her mom. Jimmy officiated his best friend Brian's wedding, while Derek is officially retiring and Paul tries to heal his own fractured relationship with his daughter, Meg.
What will Shrinking Season 2 be about?
Now that we are all heavily invested in Jimmy, his friends, and his clients, what can we expect from the second season of Shrinking?
"The second year is about forgiveness, and the third year is about moving forward," series co-creator Bill Laurence, who also co-created Ted Lasso, told Variety. He did not elaborate, so we don't know what this means for Jimmy and Gaby, who struck up a bit of a friends with benefits situation in the first season. We don't know if Paul and his daughter Meg will continue to work on their relationship, but the idea of forgiveness being the foundation seems to point to a lot of reparation in the second season.
When will Shrinking Season 2 premiere?
There is no release date just yet, but if the second season follows the first, we could be looking at another January premiere. So perhaps January 2024 is a possibility if it's one year after the first season. The first season had 10 episodes so we can only hope the second season has at least as many episodes.
Will the same Shrinking cast return for Season 2?
Again, no word yet but it seems safe to assume that the original cast members will be back for the second season, which include:
Jason Segal as Jimmy
Harrison Ford as Paul
Jessica Williams as Gaby
Lukita Maxwell as Alice
Luke Tennie as Sean
Michael Urie as Brian
Christa Miller as Liz
Ted McGinley as Derek
Lily Rabe as Meg
Heidi Gardner as Grace
We'll all be rooting for them to return, at any rate. Especially Liz out there representing for empty nester moms and her fantastic husband Derek, who knows how to be funny and supportive while setting his own boundaries. Like insisting he gets to use his own house sometimes.