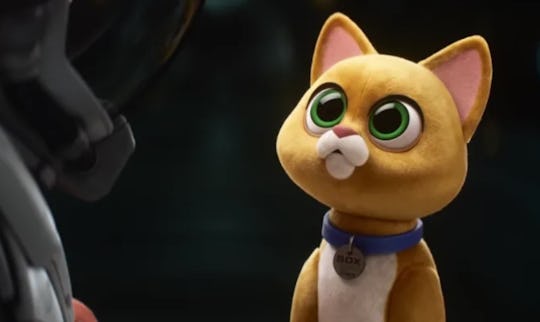 Walt Disney Motion Picture
Sox The Cat Is The Companion We Never Knew Buzz Lightyear Needed
Before Woody, there was Sox!
Lightyear is about to be the latest Pixar family-adventure favorite. But it's not just learning about Buzz's backstory that has Toy Story fans excited. The beloved character's cute, robotic feline companion, Sox, is winning hearts all across the internet. Indeed, Sox in Lightyear is quickly purring his way into our hearts. His quirky humor will immediately have you hooked, and let's face it, Buzz Lightyear with a green-eyed, ginger and white cat is just too cute. So here's what you need to know about Sox, the sweet animated kitty who will surely be your kid's favorite character in Lightyear.
Who is Sox?
Sox is Buzz's personal companion and provides the humor throughout the movie. Initially, the space ranger doesn't want to deal with the cat, but the pair ends up developing a close bond. The cat proves himself to be extremely useful, resourceful and very loyal. Sox is even instrumental in helping Buzz get a good night's sleep, apparently suggesting playing peaceful sounds like whale and white noises to help the space ranger sleep.
Sox may have been inspired by Chris Evans' dog.
A fun fact about this cat is that he was modeled after a real-life dog. Lightyear star Chris Evans, who voices Buzz, revealed to ET Canada that the creation of Sox and his relationship with Buzz was inspired by the actor's real-life bond with his dog, Dodger.
"I tell myself in my brain [Pixar creators] made him those colors to model after Dodger," Evans told ET Canada, referring to Sox's appearance. "When I first saw Sox, I said 'you know aside from the fact that he's a cat, all I see is Dodger."
The Captain America star referred to Sox as Buzz Lightyear's support cat. "I love the dynamic," Evans said, as reported by Looper. "... I like the idea of someone like Buzz, who's this very autonomous, austere kind of guy, but he's given an emotional support cat to acclimate ... just to address problems that he may otherwise overlook. And I think that's a nice metaphor for whether it's therapy or just the fact that we all need those emotional support moments."
Social media is obsessed with Sox.
Social media reactions about Buzz's feline pal are gushingly adorable. Well before the movie is set to premiere in theaters on June 17, the hashtag #Sox had gone viral on Twitter.
"Sox is EVERYTHING," one tweet read. "I love Sox SO MUCH. Sox is one of the best characters Pixar has ever created. That's it. That's my Lightyear reaction. I am obsessed."
Film critic Scott Mendelson tweeted Sox deserved his own film.
Sox is voiced by a Pixar veteran.
Sox is voiced by Pixar animator and director, Peter Sohn, who's also known for his voice in Pixar movies Monsters University and WALL-E. He's also worked on The Incredibles, Toy Story 3, and Ratatouille. The voice actor received his own Sox socks as a gift to celebrate the premiere of the movie.
Sox has already inspired some adorable toys.
The robotic kitty is on its way to moving up the must-have toy. Back in April, the Sox toy made its debut at the CinemaCon in Las Vegas and parents are already on the hunt of them.
"No spoilers. Just know that everyone will want a [Sox] toy as soon as this film comes out," tweeted John Rocha, a film reviewer for The Outlaw Nation, "So start buying them right now or as soon as they become available."
Get to know Sox for yourself when Lightyear premieres in theaters on June 17.