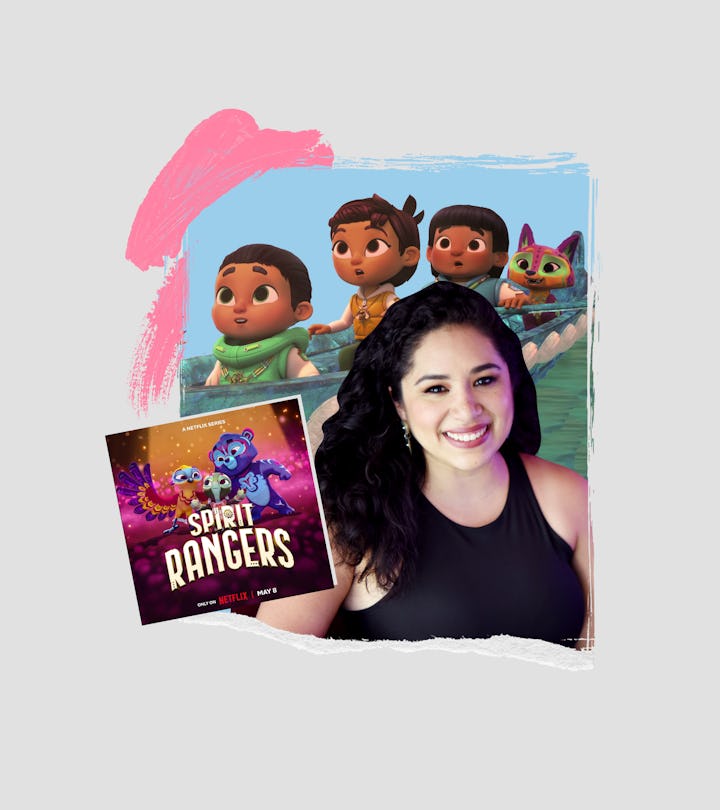 Araya Doheny/Getty Images for Netflix
Spirit Rangers Is A Kids Show About Native Joy With An All-Native Writers Room
Creator Karissa Valencia on her inspiration for the show and what's new for season 2.
At 3 and 8, it's beyond rare that my kids fall in love with the same show at the same time. So when they started talking excitedly about "spirit rangers," I had to check out this unicorn that kept both of them glued to the TV. To my delight, I found a thoughtfully made, fantastical series about Native siblings who are also park rangers, with an all-Native writers room. Netflix's Spirit Rangers features explosively stunning imagery and catchy music — the current formula for a hit kids show. But, upon diving deeper, parents will find that it's chock full of learnings about the natural world around us and Indigenous culture. Best of all, this show does what this social justice-minded mama aims for in everything: it centers joy. Now, the rangers are back for Season 2 and my kids and I couldn't be more delighted.
I recently chatted with show creator and co-executive producer Karissa Valencia and got a delightful immersion into the creative process of an artist who set out to tell masterful stories while honoring her community, her ancestors, and her own younger self. "Growing up I often felt very invisible, even within my own home here [in California], because I am a big animation nerd — love cartoons, love the kids' space — but a lot of Native representation was often leathers and feathers; characters living in teepees, in the past tense," Valencia says. "Even the representation I did have was often of the Plains Natives or Alaskan Natives. Never Californian, which is just so crazy to me that we didn't have that."
Valencia says working with the show's co-executive producer, Chris Nee, with whom she also worked on Vampirina, was formative to her understanding of storytelling. Nee, who is perhaps best known as the creator of Doc McStuffins, taught her to write for "little you and what you would've liked," Valencia says. "I know little Karissa would've loved superheroes, animal magic, my culture." Blending all of this in her own creation is a gift to us all.
Inspired by stories from Native American tribes and the majestic landscapes of national parks of America, the beauty of Spirit Rangers is that it explores the adventure and splendor of nature through the eyes of three little kids. Kodi, Summer, and Eddy Skycedar are Chumash/Cowlitz siblings who share an incredible secret. They are "Spirit Rangers" who transform into a grizzly bear cub, a red-tailed hawk, and a turtle and help protect and guard the land and spirits of the California national park that they call home.
It occurred to me that I had never met an Indigenous park ranger before, which was wild because we're the caretakers of this land.
In the second season, available on Netflix now, kids can expect visits from real-life Indigenous leaders who come to the national park. "We also expand our universe with a new group of mischievous trickster spirits who act as villains of the series," Karissa says.
In the last few years, more and more kids shows are centered around the lives of children from the global majority. Though we have a very long way to go, this progress makes my mama heart sing. What I especially love about Spirit Rangers is that it is birthed from Valencia's own dreams and culture. The concept for the show, she says, "clicked" for her one day when she was hiking with her dad. "He is Indigenous and can name every tree and flower and paw print in the mud," she explains. "I was like, 'Gosh. He just knows this park like the back of his hand.' It occurred to me that I had never met an Indigenous park ranger before, which was wild because we're the caretakers of this land. … I was like, 'Oh my gosh. This is where the family's going to live! They're going to live in a national park. In my dream world, this is a family of park rangers that exist in the present day. They're using their traditional ecological knowledge and they still love their culture, so they can do both."
What makes Spirit Rangers unique is that it tells a modern-day story while deeply honoring the legacy whose shoulders it is built on. Valencia and the Spirit Rangers team respectfully sought the permission of the Chumash and Cowlitz communities to base the stories of the Skycedar family on their tribes. Not only did they offer their blessing, they became active collaborators in the process, ensuring details like language, imagery, and art are depicted accurately with respect, pride, and authenticity.
Valencia's intention surrounding the all-Native writers room was evident through our conversation: she seeks to create an environment that centers joy and the beauty of one's own experience. "I'm very grateful that the writers felt that we created a space that was really safe and we could talk about the joys of being Native, and what that looked like, but also the really hard days where we felt invisible or overlooked. Everyone's experience is so different, so having those conversations in the room really brought out the best in our characters that we created," she says with a smile. "I like to say I've assembled the Native Avengers — and it really feels like that with the scripts, because they're really the heart of the series. I'm just so happy everyone felt vulnerable bringing in that side of them. Also, they've each brought in different folklore and myths from their own region."
Spirit Rangers is a dynamic, wonderful show that not only teaches us and our little ones so much about protecting nature, it's a timely lesson about what it means to center Indigenous voices in stories that seek to uplift them. And Valencia is just as excited about Season 2 as my kids, telling me, "I can't wait for everyone to enjoy an even more action-packed batch of episodes and meet our new characters!"
Catch seasons 1 and 2 of Spirit Rangers on Netflix now.
Raising Anti-Racist Kids is a column written by Tabitha St. Bernard-Jacobs focused on education and actionable steps for parents who are committed to raising anti-racist children and cultivating homes rooted in liberation for Black people. To reach Tabitha, email hello@romper.com or follow her on Instagram.