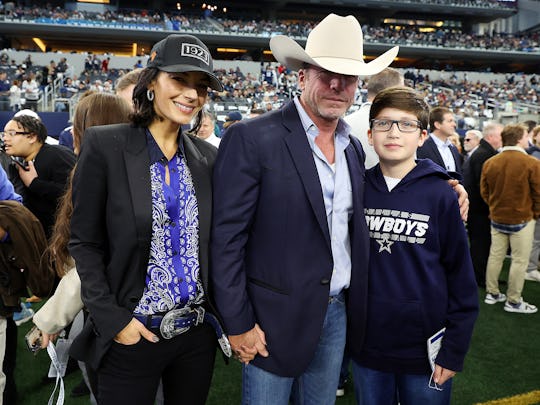 Richard Rodriguez/Getty Images Sport/Getty Images
Yellowstone Creator Taylor Sheridan & His Wife Are Raising Their Own Little Cowboy
Taylor Sheridan has built an entire television empire around a family. The Dutton family of Yellowstone on Paramount+ and all of those increasingly popular prequels like 1923, to be precise. Sheridan seems to know a little something about family dynamics and passing down traditions from one generation to the next. But what about the Yellowstone creator and actor's own family? Here's what you need to know about Sheridan's wife and son.
Taylor Sheridan met his wife, Nicole, in acting class.
Taylor Sheridan, 52, was playing the role of David Hale in FX's Sons of Anarchy when he met his wife, Nicole Muirbrook. But they didn't meet on set, they met when Nichole signed up for an acting class he was teaching, according to Horsey Hooves. Sheridan had picked up the coaching gig to help make ends meet at the time, Wide Open Country reports, and not long after, he and his future wife became an item.
She shares his love of horses.
The couple shared more than a love of cinema when they first met. Nicole, like Sheridan, has a deep love of horses and country living. Born in Salt Lake City, Utah, Nicole, 39, grew up riding horses in the mountains surrounding her grandparents' ranch in Wyoming, and competes in rodeo cutting competitions to this day with her horses Sweetie and Simba.
They've been married for 10 years.
Sheridan and Nicole married in 2013 in what appeared to be an intimate outdoor ceremony, back when they were struggling to find their way in their acting careers in Los Angeles. Nicole told Cowgirl Magazine, "At the time it was like 'let's just make enough to pay a mortgage or rent or food.' We were literally starving. That's when Taylor started writing, and two years later, we were at the Oscars … I still can't believe it."
Their son Gus was born in 2010.
The couple welcomed their only child, son Gus, in 2010 when they were still living in Los Angeles' San Fernando Valley, but Sheridan didn't want him to grow up in Hollywood. "I didn't want to raise my son in L.A.," Sheridan told Austin American-Statesman in 2017. "And I didn't want to have to look him in the eye and tell him I couldn't take him to a baseball game because I had an audition for a Windex commercial."
Gus often appears on his mom's Instagram account, like in September 2021 when she wished him a happy 11th birthday.
They moved to their own ranch in Texas.
As Sheridan's screenwriter career continued to skyrocket when he wrote a trio of hit movies about life in the American west — Sicario, Hell or High Water, and Wind River — the outdoorsy family left Los Angeles for Park City, Utah. Now, the family currently owns Bosque Ranch, a premier equine facility in Weatherford, Texas, where they train the horses seen on all of the Yellowstone series.
In an interview with Cowgirl Magazine, Nicole said the move came about rather suddenly. "We were living in Park City, and Taylor really didn't like the snow," Nicole said. "So, he rolled over one morning and said, 'Honey, we're getting the hell out of here,' and I'm like 'Where are we going?' 'We're going to go to Texas,' he replied. We actually bought the house before I'd ever seen it. With the hectic schedule of Yellowstone, he was like, 'Maybe we should go see the house.' So, I flew there on a weekend, and I loved it."
Their son Gus is a little outdoorsman.
While his parents keep him very much out of the limelight, 11-year-old Gus looks to be quite a little outdoorsman himself on his mom's Instagram account. She's shared photos of Gus fishing, camping, and just enjoying the freedom of ranch life. But he's also been known to pick up a guitar and play a tune now and again.
Nicole told Cowgirl Magazine that Gus "loves" living in Texas. "He's never on his phone. He's never on his X-Box," she said. "He's always outside with the dogs, fishing with his buds, or roller-skating in the barn. He also ropes, so he's often on horseback. He's just always doing something."
It's all about striking the right balance for the Sheridan family. And that balance exists far from Hollywood.