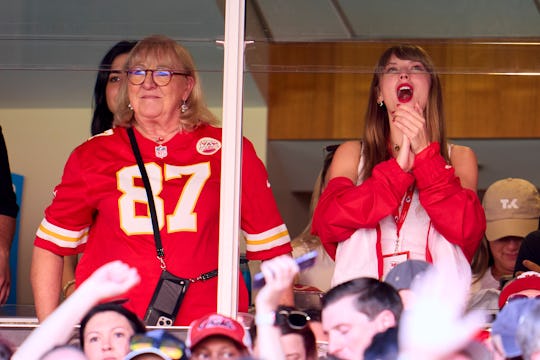 Cooper Neill/Getty Images Sport/Getty Images
Leave It To Travis Kelce's Mom Donna To Settle All Those Taylor Swift Dating Rumors
When she's not baking cookies for her sons at the Super Bowl, that is.
There's been a lot chatter about whether or not Taylor Swift and Kansas City Chiefs star Travis Kelce are a thing. He's hinted at it, his brother Jason has hinted at it, but nothing had been confirmed. Well, leave it to the NFL pro's mom and pre-game cookie baker extraordinaire Donna Kelce to settle things once and for all.
Swift was seen laughing and cheering with Kelce's mom on Sunday, Sept. 24 in a box suite at Arrowhead Stadium in Kansas City, Missouri, rooting for the Chiefs as they defeated the Chicago Bears 41 to 10, settling weeks of rumors about whether or not the pair are dating. The 33-year-old Grammy award winner was seen jumping and screaming "let's f*cking go!" as the tight end, also 33, scored a touchdown. Of course, with Mama Kelce herself right next to her. And they both came dressed for the occasion; Donna wore her son's #87 jersey while Swift wore a red and white Chiefs windbreaker, at times hanging off her shoulders or tied around her waist.
An eyewitness at the game on Sunday told Entertainment Tonight that Swift was "just so very normal, just watching the game casually with Mama Kelce."
After the game, Swift and Kelce were seen leaving the stadium together in a video posted on X, formally Twitter, by WGN radio host Jarrett Payton. "Talk about being at the right place at the right time!" Payton captioned the video that shows Swift saying "hey!" as she and Kelce walk side by side. Moments later, they were seen driving away in Kelce's getaway car, ahem convertible.
Ahead of Sunday's game, Kelce was asked about all the dating rumors during an interview on ESPN's The Pat McAfee Show. "It's hilarious how much traction this has actually got. This is like the old school game called telephone, where everybody is just whispering in everybody's ear," he said. "No one actually know what's going on." He's not wrong; Kelce's brother, Philadelphia Eagles center Jason Kelce, was even asked about it during an interview.
More specifically about Swift, Kelce said, "I threw the ball in her court and told her, 'I've seen you rock the stage in Arrowhead. You might have to come see me rock the stage in Arrowhead and see which one's a little more lit. We'll see what happens in the near future." Kelce had attended Swift's Eras Tour at the Kansas City stadium in July and was "butt hurt" that he couldn't give her a friendship bracelet with his phone number written on it.
Fast forward to Sunday and Swift is now rocking out with Kelce's mom.