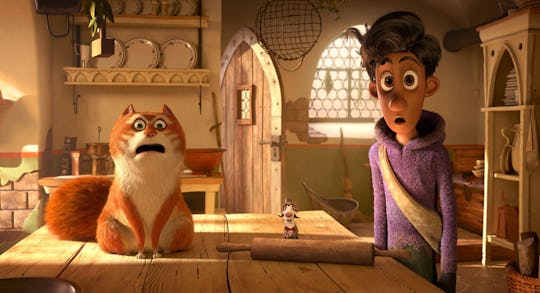 Viva Kids
Watch An Exclusive Sneak Peek Of The Amazing Maurice
The animated feature, written by the screenwriter who gave us our beloved Shrek more than 20 years ago, premieres in theaters on Feb. 3.
Imagine if the pied piper was real. And that he had a very sassy cat pal called Maurice and the two of them used their powers to swindle villagers instead of ridding them of rodents. This is exactly what you'll see in this exclusive look at The Amazing Maurice, an animated feature written by the screenwriter who gave us our beloved Shrek more than 20 years ago.
The Amazing Maurice follows the sassy, street-smart cat Maurice (Hugh Laurie) with an eye for swindling on his adventures with his band of rats and pied-piper friend Keith (Himesh Patel) through the countryside. The team of them convince villagers that they are being plagued with rats then take advantage, of course. Unfortunately for them, they happen upon a lovely town that is actually really plagued by rats and criminals and even a mysterious crime boss. The end up having to join forces with the mayor's daughter Malicia (Emilia Clarke) to discover the truth behind all of the town's troubles, and perhaps take on more than they can handle.
In Romper's exclusive sneak peek at The Amazing Maurice, Malicia meets a tap-dancing rat pal of Maurice and very quickly uncovers the gang's swindling ways. Although to be fair she doesn't seem terribly upset about it.
The Amazing Maurice is based on the Terry Pratchett book The Amazing Maurice and His Educated Rodents, and was adapted for the screen by Shrek screenwriter Terry Rossio. The film is already being screened on streaming services in the UK, but is gearing up for a nationwide theater release stateside on Feb. 3, as well as a premiere at Sundance this week. A premiere that should go swimmingly, based on Emilia Clarke's personal abbridged description of the film. "It's a movie that has cats, rats, and me in it," she told Sky Cinema. Beyond that, Clarke does go on to say that the film has "a message, and there's heart, and it's fabulous."
If The Amazing Maurice is anything like screenwriter Rossio's very famous other film Shrek, it's bound to be a hit with kids and parents alike. That particular blend of fun animation, quirky characters, and wink-wink references to classic fairy tales always ends up being a good time. Plus who doesn't want to see a cat working in partnership with a team of tap-dancing rats?
The Amazing Maurice premieres in theaters on Feb. 3.