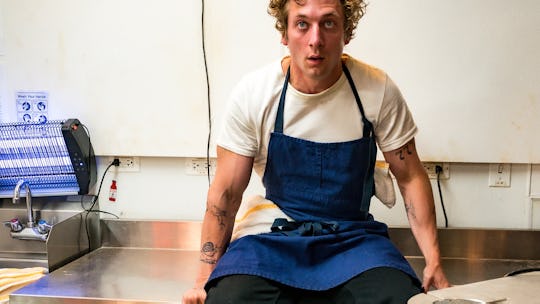 Hulu
The Bear Is Officially Coming Back For Season 2 & Here's Everything We Know So Far
Big changes are coming to The Beef.
Note: Spoilers ahead for Season 1 of The Bear on Hulu.
Watching The Bear on Hulu was like a stress dream gone wild for anyone who has ever worked in a professional kitchen. The adrenaline, the pressure, the big personalities. Carmy, although not all kitchens have a Carmy, they just wish they had a Carmy. And that finale was... a lot to digest. So many cans of tomatoes packed with so many dollars. So much tension behind the scenes. There's no way they could leave it there right? Right. The Bear is coming back for Season 2, and fans can expect big things for The Original Beef. Here's everything we know so far.
Where will Season 2 of The Bear pick up?
The end of Season 1 saw Carmy (Jeremy Allen White) apologize to Marcus (Lionel Boyce) after losing his temper with him during an especially tense kitchen moment in Episode 7. Marcus returned and Sydney (Ayo Edebiri), who had also walked out, returned as well. But things were not as smooth between the headstrong, talented chefs. That tension is expected to play a big part in Season 2 of the series, according to Allen White. "I also feel like you've still got this tension, with Carmy and Sydney, and this power balance that they're still gonna be struggling with. Yes, he apologized, kind of. Yes, she sort of accepted it. Yes, they both have a shared passion for this thing. But there's certainly a lot for them to sort out with one another still left," the actor told Collider.
A teaser trailer for Season 2 hints at The Original Beef's rebirth.
A new teaser trailer for Season 2 of The Bear sees the staff closing up shop at The Beef, taking off their aprons and pulling signs off the wall. The trailer ends with a note that reads, "The Beef is closed. Thank you for your patronage." We know from the first season that Carmy's brother Michael left money for him in cans of tomatoes, which he intended to use for the two of them to start their own restaurant together. Now that Carmy has been able to pay off Uncle Jimmy's loan, could this mean there will be a new version of The Beef coming?
When will Season 2 of The Bear premiere?
The sign in the teaser trailer also offered insight into when fans can expect the new episodes to drop. Season 2 of The Bear is coming in June 2023 on FX and Hulu. While we don't have a specific date yet, it seems The Bear will be back in a few short months.
Who will be coming back?
According to the teaser trailer, it looks like pretty much the entire first season cast will be back. Carmy, Sydney, and Marcus for sure, as well as Richie (Ebon Moss-Bachrach), Carmy's sister Natalie (Abby Elliott) and fan-favorite Tina (Liza Colon-Zayas).
The end of the first season really left a lot of questions hanging in the air for Carmy and the rest of the gang at The Original Beef. Hopefully we'll get to see those questions answered in Season 2.