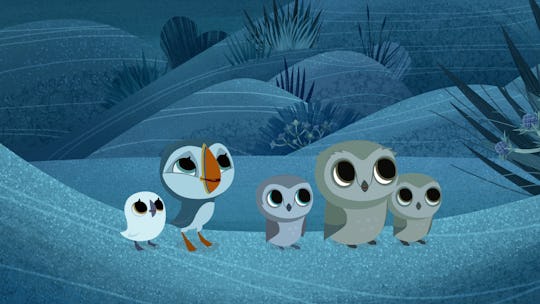 Netflix/Adobe After Effects
Here Are 29 Shows You Can Feel Good About Your 2-Year-Old Watching
Make the most of your kids' screen time with these educational shows.
Finding a new show to share with your little ones can be a struggle when you're sick of hearing the same theme song countless times per day. But never fear — I'm here to offer some of the best shows for 2-year-olds. Whatever your toddler is into at this exploratory stage, something on this list is sure to peak their interest.
A lot of factors come into play when determining what makes for "good toddler TV," but things like educational value, watch-ability, and representation in media are good places to start. When it comes to good shows for 2-year-olds, you'll have to put on your preschool thinking cap and start by considering what exactly it is that they will enjoy.
In general, this age group finds shows such as CoComelon, Paw Patrol, and Pocoyo appealing for a reason. "Infants, toddlers, and preschoolers find these programs attractive because they provide a multi-sensory experience that is engaging without being overwhelming," licensed psychologist Nicole Beurkens, Ph.D., previously explained to Romper. "Young children are drawn to the bright visuals — especially the focus on big eyes and faces — the repetitive music and sounds, and the constant movement and action on the screen."
Ultimately, though, it's up to you to choose the TV show. It really comes down to personal taste and, let's be honest, what parents can tolerate streaming with their kids. But if you're looking for an all-around good kids show that ticks all of the boxes, these 29 shows for 2-year-olds are a great place to start.
Love this list? Create a Likewise account to save these recs to your own watchlist and follow Romper for more. You'll always know exactly what to watch next.
With all of the pressure surrounding screen time and developing toddlers' brains, parents may feel understandably pressed to make sure their viewing habits lend themselves to growth. But with shows like the ones on this list, parents can rest assured that their kids are getting something from their time in front of the tube.
Experts:
Nicole Beurkens, Ph.D., CNS, licensed psychologist
Jocelyn M. Wood, bilingual speech language pathologist
This article was originally published on