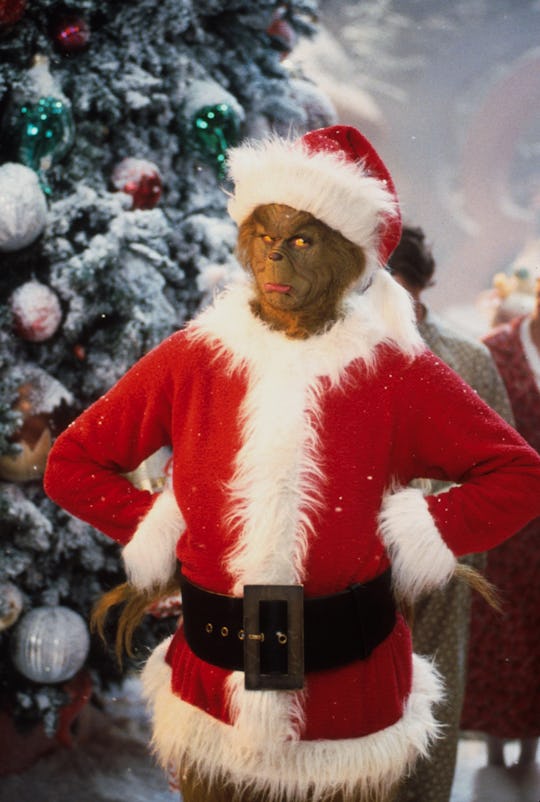 Getty Images/Hulton Archive/Getty Images
15 Really Interesting Facts About The Grinch Your Kids Will Love
For starters, Max was played by six (!!) dogs.
Over 20 years ago, Dr. Seuss fans were gifted with a live-action adaption of one of our favorite childhood stories. How The Grinch Stole Christmas made our hearts grow three times bigger when it premiered back in 2000. Although the story has been remade before into several movies, starting with the first cartoon version in 1966 and later in 2018 with Doctor Strange's Benedict Cumberbatch, it was Jim Carrey's iconic performance of the green grump and all the cool facts behind 2000's version of The Grinch that really immortalized it.
"It was fun to play," Carrey reflected on his role during a 2020 interview with Entertainment Tonight. "Once we got in that when we got in those places, you know even with the suit right, you just can't help but get carried away with this stuff. The Grinch is a great character."
But there's no greatness without some serious hard work and commitment. Not only is the film on record for being one of the most expensive Christmas movies of all time, reportedly making $345 million at the box office, it's also one of the most challenging. From CIA training to straws up the noses, there a bunch of nuggets, some more pleasant than others, that contributed to the success of this film. Here are a few cool facts about The Grinch from 2000, as well some older factoids, you can share with your kids this holiday season.