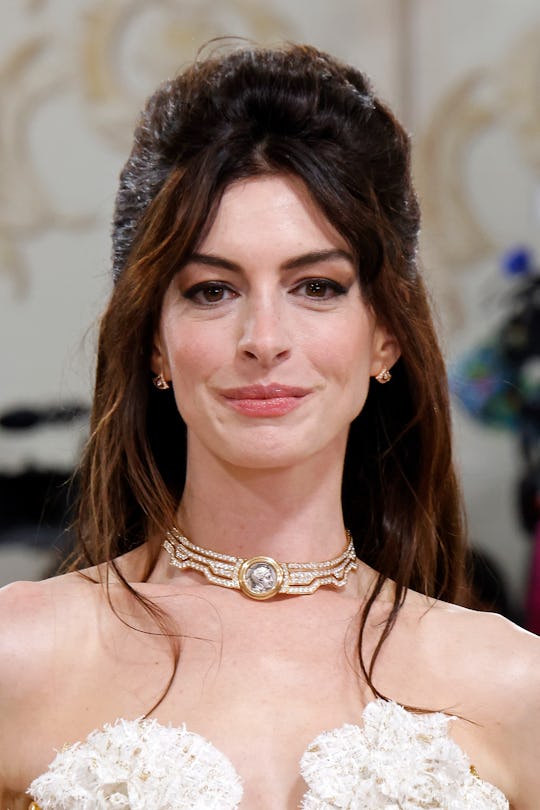 Taylor Hill/Getty Images Entertainment/Getty Images
The Idea Of You Stars Anne Hathaway Finding Love With A Young Rock Star
She plays a single mom having a "clandestine" affair with a boy band member.
Anne Hathaway has a new romantic comedy coming out later this year, and if that's not enough to get rom-com fans excited, the premise of the movie should be. Because Hathaway is starring in a film adaptation of the breakout fan-fiction book The Idea of You, all about a single mom getting involved with a Harry Styles-type boy band singer. Now you're hooked. And so are we.
The Idea of You is based on the novel by the same name by debut author Robinne Lee and tells the story of 39-year-old divorced art gallery owner and mom of one Solène Marchand, who takes her daughter Isabelle to see boy band sensation August Moon and finds herself getting involved with Hayes Campbell, one of the members of the group. "What begins as a series of clandestine trysts quickly evolves into a passionate and genuine relationship," the book synopsis reads. "It is a journey that spans continents as Solène and Hayes navigate each other's worlds: from stadium tours to international art fairs to secluded hideaways in Paris and Miami. For Solène, it is a reclaiming of self, as well as a rediscovery of happiness and love."
The film version of The Idea of You stars Hathaway as the main character, named Sophie for the big screen, and differs just slightly. Sophie's husband has left her for a younger woman and she takes her daughter Izzy (Ella Rubin) to Coachella, where she meets Hayes (Nicholas Galitzine of Red, White, & Royal Blue) and yes, they still get their clandestine affair but in the movie version, they have to deal with the realities of their different lives as they navigate their relationship.
Anne Hathaway plays a single mom in 'The Idea Of You.'Araya Doheny/WireImage/Getty Images
Nicholas Galatzine is a boy band star in 'The Idea Of You.'Gareth Cattermole/Getty Images Entertainment/Getty Images
If the story sounds vaguely familiar, you are not alone. Many people have made the connection that The Idea of You sounds as though it is based on Harry Styles' relationship with Olivia Wilde. But author Lee told Vogue in 2020 that this"was never supposed to be a book about Harry Styles." She went on to explain that "it was supposed to be a story about a woman approaching 40 and reclaiming her sexuality and rediscovering herself, just at the point that society traditionally writes women off as desirable and viable and whole." And to be fair, the book came out in 2017, several years before that romance got off the ground. But we are here for it regardless.
The Idea Of You starring Anne Hathaway does not yet have an official premiere date, but filming wrapped last year and the movie is expected to come out later in 2023. We will be waiting.