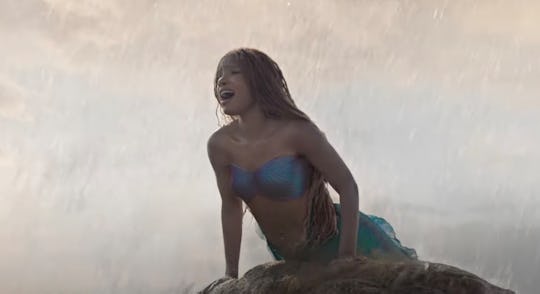 Walt Disney Studios/ YouTube
Ariel Meets Ursula & Gets Her Legs In Disney's New Full-Length Little Mermaid Trailer
Brace yourselves: Sebastian, Scuttle, Flounder look a little too realistic!
The first full-length trailer for Disney's live-action version of The Little Mermaid has finally made its debut. The trailer might have only been a little over two minutes long, but it really delivered when it came to giving fans a glimpse of what we can expect from the movie, the incredibly realistic CGI animation, how it differs from the original version from 1989, and oh yes, Ursula. A really good look at Ursula.
The newest trailer for The Little Mermaid dropped during the Oscars on March 12, and it honestly felt like its own little standalone movie. The trailer opens with Prince Eric (Jonah Hauer-King) sinking to the bottom of the ocean after his ship crashes. He is rescued, as we all know, by a young mermaid named Ariel (Halle Bailey), who brings him to the surface and swims away after quickly falling in love with him and also the idea of being a human on the land. We see Ariel's father King Triton (Javier Bardem) forbid her from engaging with humans. And at last, we see Ursula the Sea Witch (Melissa McCarthy) slither in with her tentacles to make a deal with Ariel if she wants to live up on the land.
Buckle up and watch the trailer for The Little Mermaid, it's so worth it.
While there was one other teaser trailer released ahead of this full length one, fans are treated to hearing Ariel sing more of "Part Of Your World," not to mention seeing her engage with some of her friends like Flounder (Jacob Tremblay), Scuttle (Awkwafina), and Sebastian the crab (Daveed Diggs). And of course, seeing Bardem play Ariel's concerned if slightly overbearing father King Triton. He pulled off both Triton's frustration and his bossiness in mere seconds, impressive.
As you can imagine, Twitter had a lot of feelings about the new trailer, especially seeing Bailey as Ariel.
Some eagle-eyed fans were really impressed at the level of attention Disney has paid to recreating the original.
Not everyone, however, loved the new live-action version of animated characters like Scuttle and Flounder. A little too realistic, perhaps?
Fans of the original animated version from 1989, which you can still watch on Disney+ if you need a little flashback moment, will appreciate the call backs. Like the slightly clueless seagull who becomes Ariel's ill-informed guide to all things human and Flounder following his pal even when he knows she's getting into trouble. And Sebastian, of course, wanting to pull in the reins on Ariel's rebellious nature. But also, this version will offer some updates and refreshes. Some new songs, some amazing visual effects. And of course, Ursula in all her devious glory.
The Little Mermaid is set to premiere in theaters on May 26