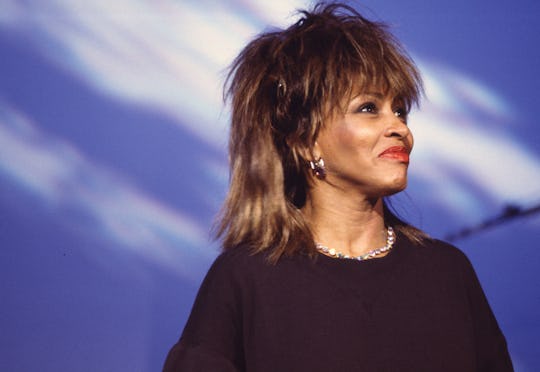 Gary Gershoff/Archive Photos/Getty Images
Tina Turner Has Died At The Age Of 83: The Singer Was An Icon & A Mom Of 4
The legendary singer lost two of her sons years before she passed away following a battle with intestinal cancer.
The world learned on May 24 that legendary singer Tina Turner had died at the age of 83 years old. She had been battling intestinal cancer since 2016 and had received a kidney transplant in 2017.
"Tina Turner, the 'Queen of Rock'n Roll' has died peacefully today at the age of 83 after a long illness in her home in Kusnacht near Zurich, Switzerland. With her, the world loses a music legend and a role model," her publicist Bernard Doherty said in a statement shared with The Guardian. It is, of course, a much more personal loss for the people in Turner's life. Her Swiss husband Erwin Bach, who she had been with for 37 years. And her children.
Tina Turner was actually born Anna Mae Bullock in Nutbush, Tennessee in 1939. She picked cotton with her family, sang in her church choir, and eventually found her way as a singer in the band Kings of Rhythm as a teenager. This was where she met saxophonist Raymond Hill. And by the time she was 18 years old, she was a mom. Here's what you need to know about Turner's children.
Craig Turner
Turner welcomed her oldest son Craig Turner in 1958, and he was the only son she welcomed with Raymond Hill. The two eventually separated, and Turner went on to welcome more children with husband Ike Turner. Sadly, her son Craig died by suicide at the age of 59 in 2018, and Turner remembered saying goodbye to him in a post from that year as "the saddest moment as a mother." She scattered her sons ashes off the coast of California and noted that he "will always be my baby."
Ronnie Turner
Turner gave birth to son Ronnie in 1960. She and ex-husband Ike Turner welcomed Ronnie together and married two years after his birth. Ronnie was actually featured in his mom's comeback video for the 1984 hit "What's Love Got To Do With It," and went on to marry French singer Afida Turner in 2007. The couple performed with Turner several times through the years. Unfortunately, Ronnie died in December 2022, and his mother shared the news with a heartbreaking post on Instagram that read, "Ronnie, you left the world far too early. In sorrow I close my eyes and think of you, my beloved son."
Ike Turner Jr.
Turner adopted Ike Turner Jr. when she married his father in 1962. Like his father and his stepmother, Ike Turner Jr. became a musician, forming a band called The Love Thang with Sweet Randi Love. He is a Grammy award-winning producer in his own right, but sadly he and Turner did not stay in contact in the years before her death.
Michael Turner
Ike Turner's youngest son Michael was also adopted by Turner when the two married. He has stayed out of the spotlight to the point where not much is known about him. Hopefully he was able to stay in contact with his stepmother. Because her death is a true loss for the world, but especially for her family.