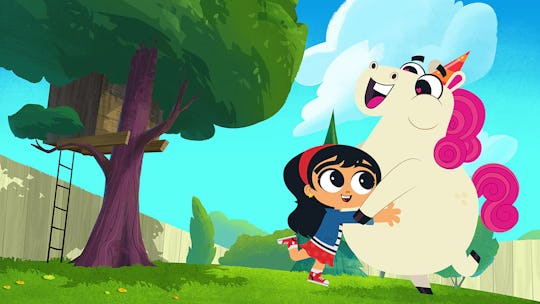 Nelvana
21 Magical Shows & Movies About Unicorns
Because your kid can't get enough of those ethereal creatures.
It's not a surprise that unicorns are a favorite among children. Mystical and magical, unicorns represent a fairytale world that can still seem like a realistic possibility to many young kids. Unicorns are full of mystery, and they're also fun, cute, and exciting. If your little one is completely obsessed, an easy way for them to get their fix is to watch TV shows and movies for kids who like unicorns. And if you've found yourself watching the same unicorn shows or movies over and over (and over and over and over) again, it's time to switch it up.
The great thing about the many unicorn movie and show options out there is that they can range in age and complexity. There are gentle animated series about unicorns that even little ones will be entertained by, and there are also some movies made about the fantasy creature that older kids and the whole family will be interested in as well. After all, it's fun to watch films about unicorns, even when you know they're not real.
Finding something new to watch can sometimes require a little digging through various streaming platforms. From unicorn cartoons to live-action films, these TV shows and movies about unicorns are sure to keep them occupied — for a little while, at least.
No matter your child's age or attention span, there's a unicorn show or movie out there they're bound to love — just don't expect the unicorn fervor to slow down anytime soon.
This article was originally published on