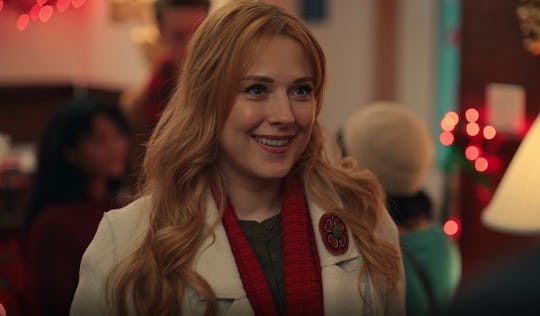 Netflix
The Virgin River Christmas Episodes Will Be "Packed"
The holiday-themed episodes premiere on Nov. 30.
If ever there was a show tailor-made for holiday episodes, it's definitely Virgin River. The coziest of cozy romance series on Netflix feels like a sort of ode to every picturesque holiday you can imagine. The setting of the series, filmed in British Columbia, Canada, is beautiful. The townsfolk love to wear sweaters and drink tea and sit by fires, both indoors and outdoors. So why has there not yet been a holiday episode? I guess because they were waiting for Season 5 to do a big blowout, and we are absolutely here for it. Here's everything you need to know.
Note: Spoilers for Virgin River Season 5, Part 1 are ahead!
Two Virgin River holiday episodes are premiering on Nov. 30.
Mere weeks after Season 5 of Virgin River drops on Netflix on Sept. 7, not just one but two holiday-themed episodes of the series will air on Nov. 30. Just in time for the full on holiday season. Details about the holiday episodes are pretty scarce at this point, but a teaser released on Netflix at the end of Season 5 hints at what drama will unfold.
What will the Virgin River holiday episodes be about?
In Season 5, we learn that Mel (Alexandra Breckenridge) sadly suffers a miscarriage, losing the baby girl she was expecting with her fiancé Jack (Martin Henderson). And Charmaine (Lauren Hammersley) is most definitely still pregnant with twins, much as she has been for the past four seasons, and Jack is not the father. In the Season 5 finale, we learn that local gang leader Calvin is actually the father of her twins. Doc (Tim Matheson) is now losing his vision more rapidly due to macular degeneration, Lizzie (Sarah Dugdale) tells her new love interest and Doc's long-lost grandson Denny (Kai Bradbury) that she might be pregnant. Brie (Zibby Allen) and Brady (Ben Hollingsworth) break up. And Preacher (John Middleton) has fallen for Kaia (Kandyse McClure) a wildland firefighter going through a divorce.
The biggest cliffhanger, however, was revealed at the end of Episode 10 as the show jumps ahead to the holiday season and Mel is on the phone with her sister, Joey (Jenny Cooper). We learn that Joey and her family are going to join Mel and Jack in Virgin River for Christmas. During their convo, Joey tells Mel "don't freak out" before she reveals she found love letters between their late mother and a man from Virgin River, who she believes could be Mel's father.
In a teaser for the holiday episodes that plays at the end of Virgin River Season 5, Mel is on a mission to find her biological father and turns out, he's still in Virgin River. We also see that the town is gearing up for an intense Christmas tree decorating competition, Lizzie is feeling stressed about becoming a mother, and Charmaine is finally in labor with the twins and Mel helps with the delivery. Whew, there's a lot to unpack in these two episodes.
The Virgin River holiday episodes will reveal the identity of Mel's biological father.
Director Gail Harvey confirmed to Entertainment Weekly that we will find out who Mel's biological dad is. "It does follow through. We know that there are the postcards, and then it goes from there. It's definitely part of the two episodes, and it's actually quite amazing. I'm very proud of the way that it all worked out," Harvey told the outlet.
The holiday episodes jump ahead in time and will set up Virgin River Season 6.
Virgin River executive producer and showrunner Patrick Sean Smith confirmed to Glamour that the two holiday episodes dropping on Nov. 30 jump head in time and will set up the plot for Season 6.
"We've joked about it. We've been like, 'We're jumping seven seasons of Virgin River!" With that said, I think there are many surprises still to come in the holiday episodes that then propel us into season six. It's definitely not just a two-off. It's still tied into the serialized stories," Smith told the magazine.
"You won't get a wedding, but you may or may not get a birth or two," Smith added. "The two episodes are packed. They touch on all the characters' lives. It's feel good, but there are also plenty of twists and turns to get you excited about season six."
Indeed, Harvey told Entertainment Weekly that Mel and Jack will continue to talk about starting their family after losing the baby girl they were expecting. "It's a big deal. And they're trying to work it out in my episodes." Harvey added that we can also expect plenty of festive details, but of course there will still be drama. "There's some very beautiful things and some storylines are tied up in a very emotional way," Harvey told Entertainment Weekly. "There's Christmas trees, there's ice skating, there's lovely Christmas gifts, there's dinners, and there's family dysfunction dynamics that we can all relate to at Christmas."
This article was originally published on