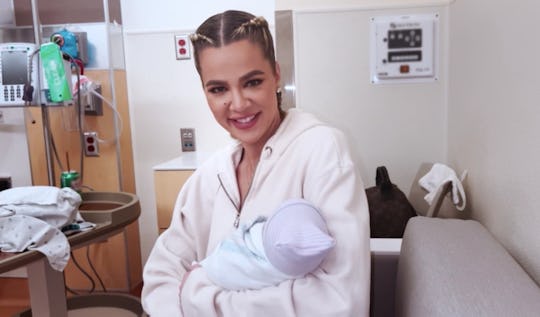 Hulu
Khloé Kardashian Gave Her Baby Boy A Chic, Gender Neutral Name
"Naming a human is really hard," the mom of two said on the premiere episode of The Kardashians Season 3.
Ever since the birth of her baby boy last August via surrogate, Khloé Kardashian has been, by her own admission, "burying her head in the sand." She and 4-year-old daughter True have been spending a lot of time at home, getting accustomed to their new little family. There have not been a pile of photo shoots and Instagram posts as there were with her first baby. In fact, Khloé didn't even share her little boy's name with the world. But finally, after nine months, the mom of two has decided that the time is right and shared her son's name on the first episode of Season 3 of The Kardashians.
Khloé Kardashian named her baby boy Tatum.
The Good American designer opened up on The Kardashians about how it felt to welcome her baby boy, who she shares with ex-partner Tristan Thompson along with daughter True, via surrogate last August. Sharing video footage of her son's birth, Khloé explained that she struggled at first to deal with the different way he was born. "This woman is having a baby, and then I take the baby and then I go to another room," she explained, admitting that she "felt it was such a transactional experience, and it's not about him."
Mother and son, of course, found their own path forward. And now Khloé officially introduced her son to the world as Tatum. "Naming a human is really hard," Khloé said in a confessional.
It took some time to figure out her son was a Tatum, as she previously explained on The Jennifer Hudson Show in April. She admitted that she "wanted to meet him and feel him out a little bit." She added, "At first, he didn't have a name. Then, he's been named but I've been waiting for the premiere of our show and I didn't know it was going to be this far out."
What does Tatum mean?
Khloé chose a gender neutral name when she went with Tatum, or "Tate" as he appears to be called by her friend Malika Haqq. It's an English name that means "cheerful" or "full of spirit." Perhaps the most famous Tatum prior to this baby boy is actress Tatum O'Neal, daughter of Ryan O'Neal.
What is Tatum's last name?
The mom of two did not share her son's last name, although it would make sense if his last name was Thompson like his older sister True. That being said, her sister Kim mentioned in this episode that the name Kardashian would not continue if their brother Rob didn't have a son. Could this mean that little Tatum's last name is Kardashian? I guess we'll have to keep watching The Kardashians on Hulu to find out.