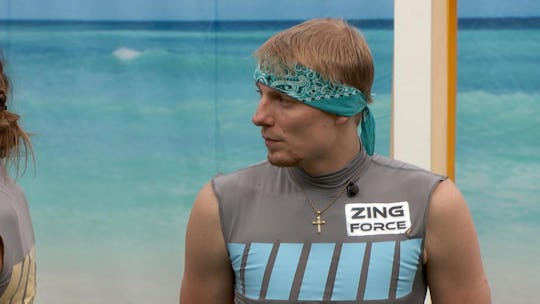 CBS
Scottie's Time In The 'Big Brother' House May Be Coming To An End
Watching Big Brother it can sometimes feel like you really know the houseguests, but there is a lot the houseguests do not share or does not make it on the show. For instance, now that Scottie is pretty much guaranteed to go to jury, some fans may be wondering: what is Scottie's job when he is not in the Big Brother house?
According to Scottie's Big Brother bio he works as a shipping manager in Chicago, Illinois. Hopefully, he will be able to return to this job since it seems he definitely will not be winning the $500,000 grand prize.
This week was a roller coaster in the Big Brother house. After Haleigh's head-of-household was botched last week by the hacker competition, supporters of The Hive were excited when Faysal became HOH this week. And then he ruined it. Rather than nominate two people in Level 6, the alliance he still does not believe exists, he nominated Brett and his own ally Scottie.
JC got into Faysal's head making him question whether or not Scottie really was the one vote for Kaycee to be evicted during the last eviction. In addition, JC also convinced Faysal that Scottie was playing an "emotional game" and wanted to get Faysal out so he could have Haleigh all to himself. In reality though, it was Faysal who was playing an emotional game and let his feelings for Haleigh and jealousy cloud his judgement.
Scottie's only hope at staying in the house this week was to win the Power of Veto. Unfortunately, he once again came in second place in the competition and Brett won the POV. Obviously, Brett will take himself off the block and there is pretty much no one else in the house that Scottie could be sitting next to on the block who would be sent to jury instead of him. However, Scottie and Sam do not think so.
The pair had it in their head that if Scottie and Haleigh are sitting next to each other on the block come eviction night, then Haleigh would be sent to jury instead of Scottie. While perhaps that is possible, it seems doubtful since Scottie has already proven he is better at comps than Haleigh and Scottie knew there was no way Faysal would ever put up Haleigh, the love of his life. Sam, however, was confident she could persuade Faysal to make the move.
Sam went to work trying to tell Faysal why it would be in his best interest to nominate Haleigh and all that conversation did was make Faysal think Zingbot was right for calling Sam "crazy." Sam wanted Faysal to pinky promise that he would nominate Haleigh, which he thankfully did not do. Following their conversation, Scottie then dropped hints to Faysal that he also thought Haleigh should be nominated, calling her "Kaitlyn 2.0." This seemed to be the final nail in Scottie's coffin because Faysal now believes Sam and Scottie are working together, which they kind of are but that would have never happened if Faysal had not nominated Scottie in the first place.
Surprisingly, Wednesday night's episode ended before the veto ceremony so fans will have to wait until Thursday night to see what Faysal decides. Still, it is highly unlikely that Faysal will actually nominate Haleigh. If he does then he really does not know how to play this game. It is bad enough he nominated one of his allies, but to have two of them sitting on the block because you put them there makes no sense. Hopefully, Faysal does not make an even worse move before his HOH reign is over.