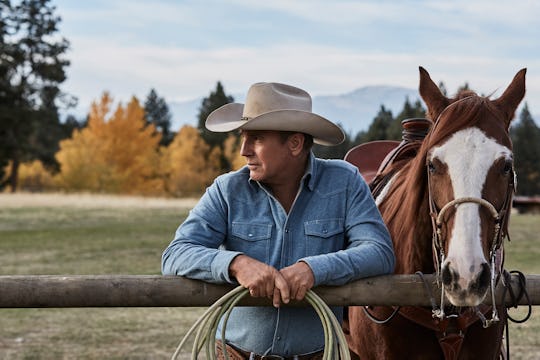 Paramount+
When Does Yellowstone Season 5 Come To Peacock? Not Soon Enough
Hello, Peacock? We need our Dutton fix, thanks.
We are spoiled for choice these days with amazing shows and amazing streaming services. So spoiled, in fact, that it can be hard to pin down exactly which services you should be signed up for and which shows to watch on them. If you're already a Peacock subscriber, for instance, you might be getting antsy waiting for Yellowstone Season 5 to arrive on the platform. But will it ever happen? And if so, when? Here's everything you need to know.
Which seasons of Yellowstone are streaming on Peacock right now?
Taylor Sheridan's wildly popular modern day western Yellowstone, which follows the Dutton family under the leadership of patriarch John Dutton (Kevin Costner), is available to stream on Peacock right this very minute. Well, most of it, at any rate. You can watch Seasons 1 through 4 of Yellowstone on Peacock, but the fifth season is still unavailable. Which is a shame because the fifth season is Yellowstone's most outsized one yet, full of intrigue both on the family ranch and in the political forum. But just because the new season hasn't hit Peacock already doesn't mean it's not coming. And potentially coming very soon.
When will Yellowstone Season 5 come to Peacock?
While Peacock has not offered a release date for Season 5 of Yellowstone and does not offer next day streaming, the fifth season should realistically drop within the next month or so. When Paramount debuted Season 4 of the series in January 2022, Peacock made the same season available just two months later in March 2022. All 10 episodes at once, in fact. As the fifth season of Yellowstone premiered in November 2022, it seems likely that Peacock users will get to see it fairly soon.
Where can you watch Yellowstone Season 5 right now?
You can stream the first eight episodes of Yellowstone Season 5 on Paramount+ right now, and it might actually be a good time to do it because the series is taking a mid-season break before airing the next six episodes in Summer 2023. Of course, if you really want to go back and do the entire series from the beginning as you wait for Season 5 of Yellowstone to drop on Peacock, that should occupy some significant time. But how great to go back and see how it all began? See how far the Duttons have come but also, how they are sort of exactly the same as they've always been? Whatever floats your boat.