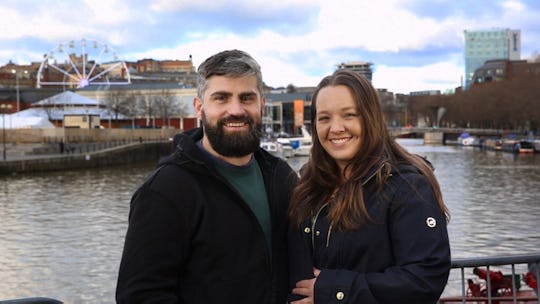 TLC
Jon's Ex-Girlfriend Intimidates Rachel On '90 Day Fiance'
Jon and Rachel have already faced numerous challenges throughout their relationship — long-distance, for one. On the last episode of 90 Day Fiancé: Before the 90 Days, Rachel uncovered another: texts from an old girlfriend of Jon's. So who is Jon's ex-girlfriend — because she caused a pretty significant fight.
There's no information about the identity of Jon's ex-girlfriend online, and honestly, I'm grateful for it. There's no reason she should be put in the spotlight just because her ex-boyfriend and his current fiancée are on a reality show.
Here's why Jon's girlfriend is suddenly so important later in the season. Having felt guilty for the way he treated her in the past, Jon slid in his ex's DMs to tell her that he was sorry and that he did love her. Rachel was upset for his usage of the word "love" because they themselves are in a monogamous romantic relationship. Rachel didn't feel it was appropriate for Jon to write that he loved an ex as they were preparing to get married. Jon, however, defended himself by explaining he hadn't treated this woman well in the past, so he wanted to make amends for that. Jon told Rachel in the latest 90 Day Fiancé episode, "I couldn't just ignore it because the point I was trying to make was that I broke someone's heart because I wanted to go and play with other girls."
Jon continued his explanation to the camera. He said that this ex has been a friend for 18 years, so it's not just an old flame. In fact, this apology from Jon may have been a long-time coming. "I did say I loved her, that I was sorry because I'm not that person anymore," he said during a confessional. "I know how a man should love a woman and I'm ashamed of the person I was."
Apparently, that wasn't the only ex that Jon had interacted with recently. While driving to Cornwall, where they had rented an inn for the wedding, Jon revealed to Rachel that he invited another ex to a pre-wedding dinner. Rachel was pissed, as I would be too. Jon didn't think it was such a big deal to interact with two exes, but it made Rachel question where they stood entirely.
While the last episode ended on an off-note for Jon and Rachel, I believe the two get through this difference of opinion on exes and got married. Earlier in the season, Starcasm posted what they claim is Jon and Rachel's U.K. marriage certificate, dated May 31. Redditor JonInCa found another marriage certificate for Jon and Rachel dated a week later; that one is apparently from Rachel's home state of New Mexico.
These certificates aren't verified, so I wouldn't use them as gospel, but it does seem like Jon and Rachel get their fairytale ending. But this ex-girlfriend isn't the only obstacle they've faced in their relationship. Jon and Rachel wanted to meet each other a lot sooner than when Rachel and Lucy flew out to England, this time with Jon visiting Rachel in New Mexico. Because of Jon's criminal record, though, he was denied a tourist visa to the United States. This may make marriage for them difficult in general. When they consulted an immigration attorney, Jon and Rachel found out that they may need to wait up to three years for the visa that would put Jon on track for a green card.
The wait probably wouldn't be a big deal if Rachel could just uproot her life and live in England. That's impossible, though, seeing as she has an older daughter with an ex with whom she cares custody. How Jon and Rachel maneuver through these bureaucratic obstacles is still up in the air, but I'm sure will be addressed soon.