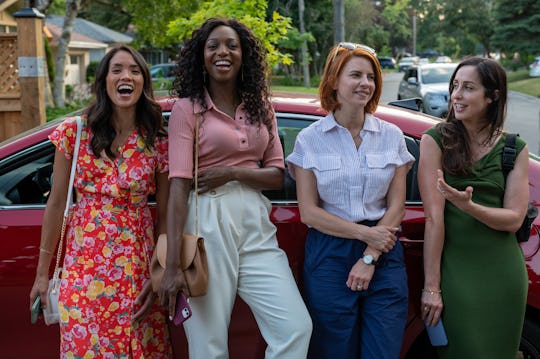 Netflix
Workin' Moms Season 7 Is Finally On Netflix
The final season is officially here, folks.
Will we ever get enough of Workin' Moms? Probably not. The hit Canadian sitcom has become something of a conduit for moms who want to unwind and watch a show that feels like them. Flawed and loving, needful and independent. We knew that Workin' Moms Season 7, the final season, was coming... but now we know when it's premiering and we're starting to feel a little bit emotional.
Workin' Moms Season 7 will be the last.
Series creator Catherine Reitman confirmed in July 2022 that Season 7 will be the last for Workin' Moms. In a statement to Deadline, Reitman said:
"To our incredible fans, making this show has been the ride of my life. Philip and I hit the ground, day one of season one, with a three-month old and a two-year-old, watching as we pressed forward on one mission: to tell the stories of four flawed mothers, who dared to be something beyond their nurseries. Going to work every day, whether in the room with our brilliant writers, on set with our extraordinary cast or in post with the best producing team in the business, has cemented in me the importance of telling stories that have meaning, surrounded by artisans who get it. But like any story, there must be an ending. And so, it is with love and gratitude that I'm announcing season seven as our final season. The biggest thank you to our partners, CBC and Netflix, for getting behind a show that points a flashlight into the darkest corners of motherhood. To those of you who've stopped me on the street, to share your love of the show – I see you. I hear you. And I thank you. Go get 'em mamas…"
Workin' Moms Season 7 has a Netflix premiere date.
Mark your calendars: Netflix announced on Twitter that Workin' Moms Season 7 will premiere on April 26, 2023. That's a Wednesday, so you'll have the perfect hump day treat to get your through the rest of the week.
You can watch the Workin' Moms Season 7 trailer now.
"What greater gift for the 5th night of Hanukkah than our 60 second trailer!" Reitman posted on Instagram, sharing the highly anticipated trailer, which features the kind of feminist hilarity and mom-realness that has made the series such a beloved hit.
As expected, familiar face are back for last final hurrah. (One of the best things about Workin' Moms has been its consistency. Since the first season, Kate Foster, played by Reitman, has stuck with the friends she first met in that fateful mom and baby support group at the very beginning.) Yes, they've had their ups and downs throughout; dealing with relationship troubles, work/life imbalances, and the most dramatic issue of all, head lice. But Kate's friends Anne (Dani Kind), Val (Sarah McVie), and Jenny (Jessalyn Wanlim) are still there for each other.
The seventh season will premiere on CBC in January.
Catherine Reitman's son Jackson will appear in the last episode of the series.
After wrapping the series finale, Reitman delivered an emotional goodbye speech to the show's cast and crew, which she shared on Instagram. "Nine years ago, I had a little boy, Jackson, who was in today's episode, you were all so patient and generous with him, and I didn't feel like myself anymore," she said. "And I was really struggling to find any content out there that represented that, and that showed how f*cked up having kids can be."
She thanked husband Philip Sternberg for encouraging her to write her experience because "these stories are so much bigger than me, they're so much bigger than Philip or Jackson or any hilarious or stupid experience I had as a mother."
This article was originally published on