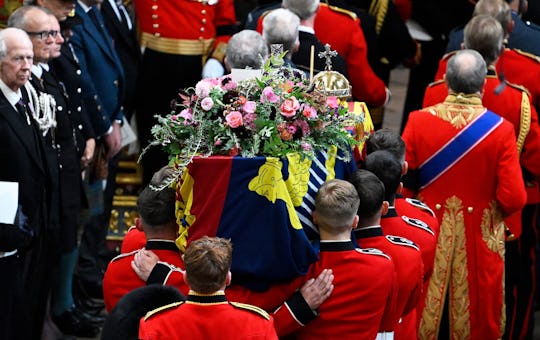 GARETH CATTERMOLE/AFP/Getty Images
The Wreath On Queen Elizabeth's Coffin Features A Romantic Tribute To Prince Philip
The foliage was included per King Charles III's request.
Queen Elizabeth II's coffin honored her long marriage with Prince Philip, who died last year, in a touching, subtle way. It was adorned with a colorful wreath containing foliage from Myrtle, which was cut from a plant grown from Myrtle in the Queen's wedding bouquet. It's a sweet gesture befitting a woman who was so romantic in life.
"At The King's request, the wreath contains foliage of Rosemary, English Oak and Myrtle (cut from a plant grown from Myrtle in The Queen's wedding bouquet)," according to a statement from The Royal Family's Twitter account today. It continued: "And flowers, in shades of gold, pink and deep burgundy, with touches of white, cut from the gardens of Royal Residences."
The coffin is also adorned with the Imperial State crown, the sceptre and orb, and the Royal Standard. There was also a card on top of the coffin from King Charles, which read, "In loving and devoted memory. Charles R.," according to Chris Ship, ITV News Royal Editor.
The coffin itself was made 30 years ago from English oak and lined with lead, which prevents air and moisture from building up and slows the decomposition process. This is a Victorian-era tradition, as Elizabeth I was also buried in a lead-lined wooden coffin, per Express.
At Prince Philip's funeral in April 2021, the Queen requested a wreath made of white lilies, small white roses, white freesia, white wax flower, white sweet peas, and jasmine, per Hello! Magazine.
White roses are the flower of June, the month Prince Philip was born. White lilies are often seen at weddings and funerals as a sign of rebirth. The white wax flower symbolizes a lasting love, which is something the royal couple had during their marriage of 73 years. The jasmine represented purity, with white sweet peas being a common tribute to departure and thankfulness. These were displayed along with Prince Philip's personal standard, his Navy cap, and sword.
Queen Elizabeth lied in state at Westminster Hall over the weekend, where thousands of people, including David Beckham, came to pay their respects to Her Majesty.
Today, the coffin traveled in a processional from Westminster Abbey to Wellington Arch, where it will be transferred to her last resting place in Windsor. Once the coffin arrives, the state hearse will travel in a procession to St. George's Chapel at Windsor Castle, via the long walk, where a committal service will take place. Afterward, the Queen will be reunited with her lifetime love and buried by Prince Philip.