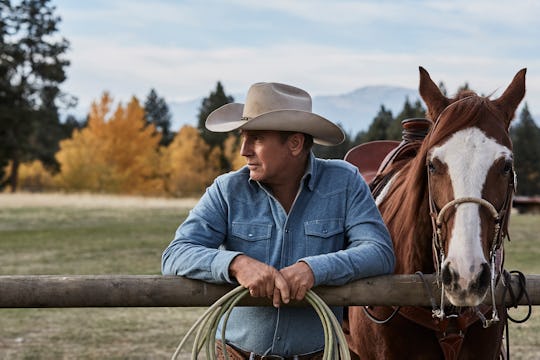 Paramount
The Yellowstone Season 5 Trailer Reveals The Duttons Are Now Even More Powerful
The Duttons will return this fall.
It's been months since Season 4 of Yellowstone came to a dramatic close, but already fans are ready for more. While we shouldn't say desperate for more because the Dutton family would definitely scoff at any sign of desperation, you get the picture. But don't fret, folks. Season 5 of Yellowstone will be here sooner than you think and here's everything we know about it so far.
When will Yellowstone Season 5 premiere?
Yellowstone will start streaming on Paramount+ on Nov. 13, 2022. Considering where he left us at the end of the fourth season, the fifth cannot come soon enough.
Get ready for a huge premiere for Season 5.
When Season 5 of Yellowstone finally premieres on Nov. 13 on Paramount+, fans can expect an outsized first episode. The new season will feature newly named Governor John Dutton and his family in a two-hour premiere episode. You know that's going to be an action-packed two hours because the Dutton family would not have it any other way.
[Note: Spoilers ahead for Season 4 of Yellowstone.]
Where did Yellowstone leave off?
Season 4 of Yellowstone saw a sea change for the Dutton family. Patriarch John Dutton (Kevin Costner) was considering a run for governor of Montana, while Beth (Kelly Reilly) and Rip (Cole Hauser) were busy dealing with their newly adopted teenage son, Carter (Finn Little). Meanwhile, Kayce (Luke Grimes) has moved his family off the Dutton ranch to try to find a more peaceful life for pregnant wife Monica (Kelsey Asbille) and son Tate (Breckin Merrill). And let's not forget poor young Tate was forced to kill an attacker to defend his mom, so he's dealing with a lot of emotional turmoil.
As for Jamie (Wes Bentley), he had a lot going on himself. Finding out he was adopted and that his birth father Garrett Randall (Will Patton) was responsible for attacks on John, Beth, and Kayce at the same time. And let's not forget that Jamie was also planning to announce his bid to run for governor when his adopted father, John Dutton, beat him to the punch. The next family dinner should prove to be all kinds of awkward.
A trailer for Season 5 of Yellowstone has dropped, and John is Governor.
A powerful new trailer for Season 5 of Yellowstone dropped in September, and it looks as though John Dutton has finally been sworn in as Governor of Montana. What does he do immediately? Fires a bunch of people and makes Beth his new CEO. Signs some sort of order that his son Jamie calls akin to signing "a declaration of war." The entire family seems to be stirring up trouble as ever in the new trailer, and if it doesn't get you excited for Season 5 to premiere in November I don't know what will.
Cast members gave us a glimpse of filming Season 5.
Cole Hauser took to Instagram to give a few glimpses of Rip in Season 5, one of which saw him riding a horse down the highway in Montana. Classic Rip. Kelly Reilly shared a gorgeous photo of the mountains of Montana on Instagram with the message, "Lily of the valley made it from my garden today to this beautiful valley in Montana. I have missed these mountains so much, this cast and crew and of course her..." Just knowing they're back on the job is exciting enough.
A country music star is joining the cast.
Country music star Lainey Wilson shared a big announcement during her appearance at Under The Big Sky festival in Montana over the weekend. "I did want to share some news with y'all," she said to a concert crowd per Good Housekeeping. "I am going to be in the next season of Yellowstone, and I'm excited. I'm going to be a musician on the show named Abby and I get to share my music with a lot of the world who watches the show." Wilson went on to share that she is going to be featured in the very first episode, "It's a big d--n deal. So, thank y'all. Thank y'all so much. Y'all be sure to tune in November 13 for the first episode. You're going to see my big ol' head on that screen. Trust me, I can't believe it either."
Some behind-the-scenes script peeks from Beth Dutton herself.
Real-life Beth Dutton Kelly Reilly took to her Instagram Story recently to share some gorgeous views of Montana, as she has often done in the past. But she also shared a glimpse of some Season 5 scripts for Yellowstone, and that's new for her. Naturally some eagle-eyed Redditors studied the photo for clues about the scripts and found some interesting episode titles, per Taste of Country:
Episode 1: "One Hundred Years is Nothing"
Episode 2: "The Sting of Wisdom"
Episode 4: "Horses in Heaven"
Episode 5: "Watch 'Em Ride Away"
Episode 6: "Cigarettes, Whiskey, a Meadow, and You"
All of the scripts seem to be written by series creator Taylor Sheridan, and weirdly enough the third episode script is missing. The plot thickens.
Season 5 of Yellowstone is set to be the biggest one yet.
While the previous four seasons of Yellowstone were 10 episodes each, the new season is expected to be 14 episodes broken down into two sets of seven installments each, Sheridan told Variety. Of course, with that first episode being two hours long, a whole lot of ground is going to get covered this season.
Where can you watch Yellowstone?
You can stream the first four seasons of Yellowstone on Paramount+ and Peacock to reacquaint yourself with the all the Dutton family dynamics, struggles, and of course all that gorgeous Montana scenery. Just remember; it's rated TV-MA and is definitely not a cute cowboy show for kids.
This article was originally published on