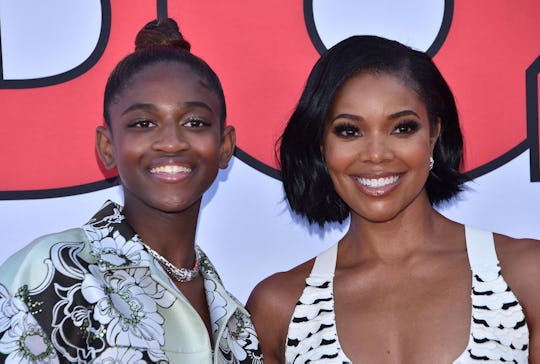 CHRIS DELMAS/AFP/Getty Images
Zaya Wade Shared The Amazing Life Lessons She Has Learned From Gabrielle Union
"She tries to teach me that beauty standards are arbitrary and that they don't mean anything."
Dwyane Wade's 15-year-old daughter Zaya recently made her fashion model debut in Paris, walking the runway for Miu Miu and looking every bit the consummate professional. She seemed so at home in her own skin, so comfortable in herself, that it was as though she had been modeling for years. Perhaps because she's learned a few lessons about style over fashion from her stepmom Gabrielle Union.
Zaya recently posed for the cover of Dazed and sat down for an interview with the magazine to discuss her style inspirations. Naturally, her stepmother Gabrielle Union came into the conversation. When asked what lessons she had learned from Union, the young model responded, "The lesson has changed over time, but more recently it's that beauty is in yourself. It's about being you and expressing yourself the way you want to. She tries to teach me that beauty standards are arbitrary and that they don't mean anything. They don't matter any more; what people thought was the standard is not. And just that being myself is the best technique out there."
Both Wade and Union have been vocal in their support of Zaya since she came out as transgender when she was 12 years old. Wade legally applied to have her name changed last August and faced fierce opposition from Zaya's mother before ultimately having that legal name change approved in February. As for Union, who is also stepmom to Wade's 21-year-old son Zaire and 9-year-old son Xavier as well as sharing 4-year-old daughter Kaavia with her husband, she and Zaya have been having fun together on social media. Like their adorable homage to 10 Things I Hate About You video where they swapped outfits and Prada bags. Or sharing photos from Zaya's winter formal in January with the message, "Supporting each other for life's big moments is key. All the nerves, all the anxiety, all the fear… With loved ones by your side, no matter the challenge, we 10 toes down. Always."
As supportive as Union is of Zaya, the fact that she's already helping her cultivate a sense of inner beauty and self expression at 15 is genuinely impressive. And after seeing Zaya walk the runway in Paris like she owned it, Gabrielle Union's life lessons are paying off big time.