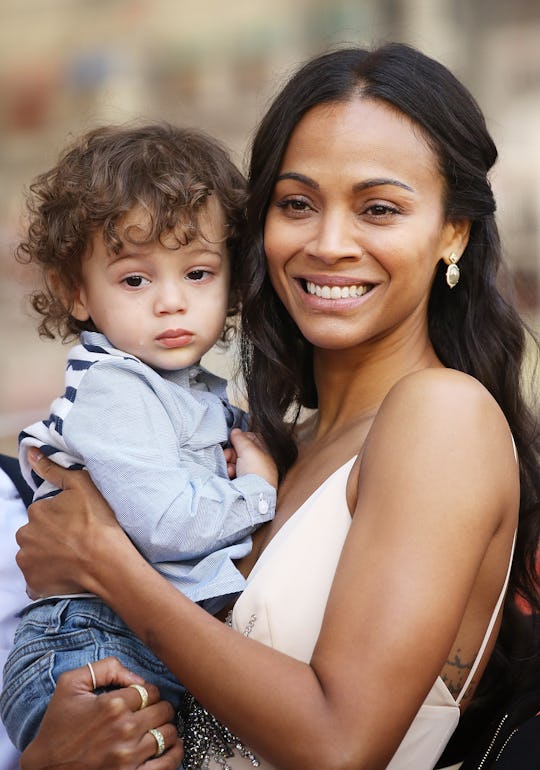 Michael Tran/FilmMagic/Getty Images
Zoe Saldaña Shared A Rare Video Of Her Three Sons Recreating A Zoolander Scene
Ben Stiller and Owen Wilson would be proud.
Actress Zoe Saldaña gave fans a peek into her life at home as a boy mom. The Avatar: Way of Water star shared a video on Instagram featuring herself with her three sons — Cy, 8, Bowie, 8, and Zen, 6 — recreating an iconic scene from the 2001 hit Zoolander.
In the video, the boys are lip-syncing to Owen Wilson's character line, "excuse me bruh," while accidentally bumping into their mom, who is walking the opposite way. "You're excused," Saldaña lip-syncs back, and then quoted Ben Stiller's famous line from the movie, "And I'm not your bruh."
"POV: reminding my teens they're actually still 6 and 8," the Guardians of the Galaxy star captioned the video.
One mom commented, "My actual teenagers keep calling me bruh. I just ignore them til they get it right." Actress Jill Wagner chimed in, "Wish I could heart this a million times."
Saldaña shares Cy, Bowie, and Zen with her husband and artist Marco Perego. The video is a rare sighting of the boys as the couple tends to keep their sons out of the spotlight. "Marco and I have a great deal of respect for the privacy of our kids," Saldaña told People in a 2017 interview. "We have to choose for them and part of that is giving them the anonymity that they need. When cameras are in their faces, it would probably be traumatizing for a child who has yet to understand what's going on."
Recently, though, it seems Saldaña has been more willing to share a few sweet family moments with her fans. On Jan. 6, Saldaña shared another peek of one of her sons in a series of videos that shows him engaging in a variety of daily activities from karate and dance class to playing drums, piano, and soccer.
It's clear the From Scratch star loves motherhood, and the ups and downs that come with it. As she told Us Weekly in 2019, "I love complaining about the fact that I'm exhausted and I'm tired. Sometimes [my sons] are mean, and the moment you kinda go, 'Be nice to Momma' and … 'I can't repeat this anymore,' they turn back and they just do it. You repurpose, and you're kind of inspired and you go, 'I'm so happy I have little boys.'"