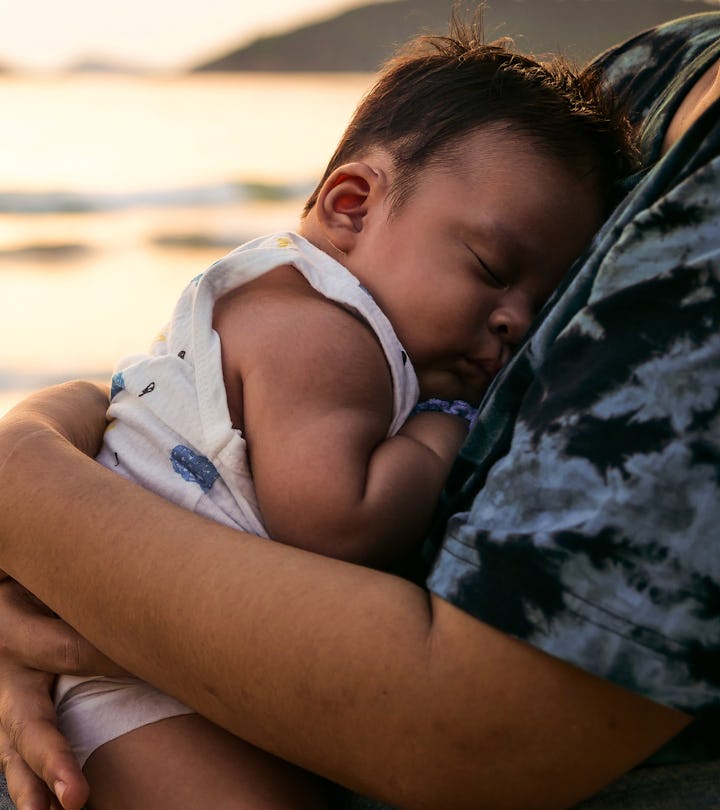 phichay cheiyw sa ri kic / EyeEm/EyeEm/Getty Images
13 Aquarius Baby Traits & How To Support Their Best Qualities
They'll be totally unique, that's for sure.
If you're slated to give birth between Jan. 20 and Feb. 20, you're having an Aquarius baby. Whatever your feelings about astrological signs and what they mean, you probably want to know everything you can about your little Aquarius baby and learning a bit about the classic traits of an Aquarius child just might sound fun. Birth charts offer food for thought, whether you live by them or are just enjoy zodiac predictions as a casual conversation starter.
So what can you expect your little Aquarius baby to be like, based on their astrological leanings? The energy of an Aquarius is freedom-loving and charitable according to Lumi Pelinku, "The Celestial Astrologer" and a spiritual coach. "They are ruled by the planet Uranus, and if you are familiar with this planet's appearance, the rings that surround the planet are vertical as opposed to horizontal, which in itself is what describes an Aquarius personality — beyond the norm and otherworldly," she tells Romper.
If you know you're going to be having an Aquarius baby, "be prepared to raise an absent-minded genius," says Suzie Kerr Wright, an astrologer, psychic medium, Reiki master, and certified life coach. "They're inventors, creative, and hilariously funny." Are you glowing with pride yet?
As far as what makes an Aquarius baby different from children with other signs, Wright tells Romper, "They're always just a little bit different, and see things that no one else does and in a way no one else does. They can't tolerate injustice, and will be the ones who become friends with the 'misfits' and outcasts. They generally do have a lot of friends from many different backgrounds."
Check out more fascinating facts about Aquarius babies and children and just what makes them different. You may be raising to the next Albert(a) Einstein.
Whichever classic Aquarius baby traits your little one ends up having, we know for sure they'll be the love of your life.
Experts:
Lauren O'Connell, astrologer
Suzie Kerr Wright, astrologer and certified life coach
Lumi Pelinku, "The Celestial Astrologer" and a spiritual coach
This article was originally published on