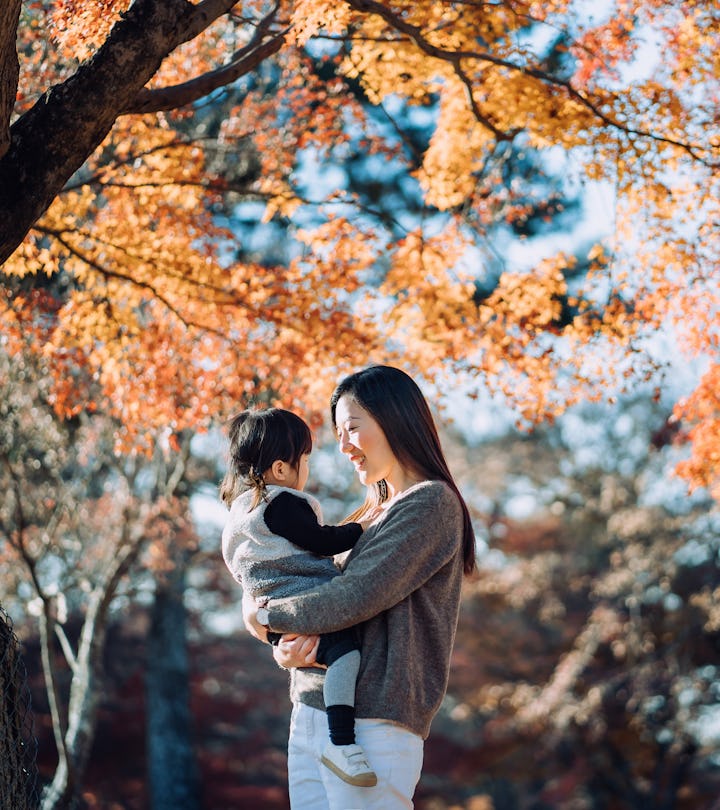 d3sign/Moment/Getty Images
16 Fun Ways To Celebrate the First Day of Fall With Your Kids
From bonfires to crafts and pumpkins, here are some great fall equinox traditions to start.
The fall equinox goes by many names, depending on your family's culture and lifestyle. There's the autumnal equinox, the first day of fall, and Mabon, a fall pagan holiday. Regardless of what you call it, it's fun to come up with fall equinox traditions to start with your family and celebrate this change of seasons. Fall equinox represents so much, and it's the official start to the coziest time of the year.
The fall equinox falls in September, according to The Old Farmer's Almanac. This is the official start of fall in the Northern Hemisphere, and "it occurs at the same moment worldwide," per the Almanac. In addition to the naturally occurring changes happening on this day, the fall equinox/Mabon has an intricate past steeped in tradition, celebration, and gratitude. It, historically, has been a time to feel grateful for a bountiful harvest, to prepare for the long dark nights ahead, and to sort of "close out" one part of the year and prepare for the next. It's such a sweet moment in fall, honestly, and having some fall equinox traditions with your family really pulls it all together.
Whether you do fall crafts, make some fall recipes, or just turn on It's the Great Pumpkin, Charlie Brown and have a movie night, there is so much magic to be had during the fall equinox.
No matter how you celebrate, the fall equinox is a great time to hunker down and be with your family.
This article was originally published on