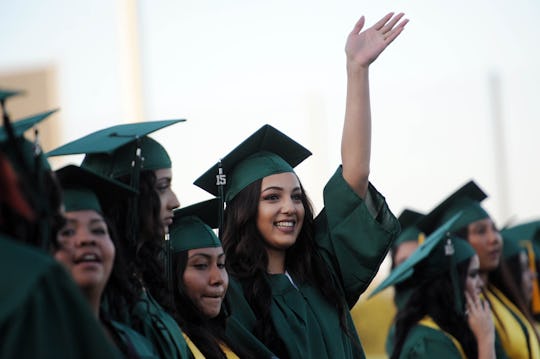 MediaNews Group/Long Beach Press-Telegram via Getty Images/MediaNews Group/Getty Images
Here Are Some Hilarious Instagram Caption Ideas For Your High School Grad Pics
Graduating from high school is one of those major life events that you never forget. It's the last time you and your peers — many of whom you've known since kindergarten — will all be together under one roof. And since you definitely don't want to miss documenting this epic moment, you're going to need to have your phones ready, and clever captions prepared. Whether you're planning on posting the classic "caps in the air" shot, or you prefer goofy pics with your squad, there are some seriously hilarious high school graduation Instagram captions.
One of the things I remember most about my high school graduation is being deathly afraid that I would trip while walking to get my diploma. When I successfully graduated without incident, I was overwhelmed with relief. While this was all pre-Instagram, if it happened now, I would most definitely be posting a pick of me crossing the stage with two simple hashtags: #thestruggle #nailedit.
So without further ado, here are 15 LOL Instagram captions for your high school graduation.
So when you cap off your college experience by documenting pics on social media, don't worry about getting super profound or sentimental. Instead, if you're in more of a jokey mood, then funny graduation captions are also great options.
This article was originally published on