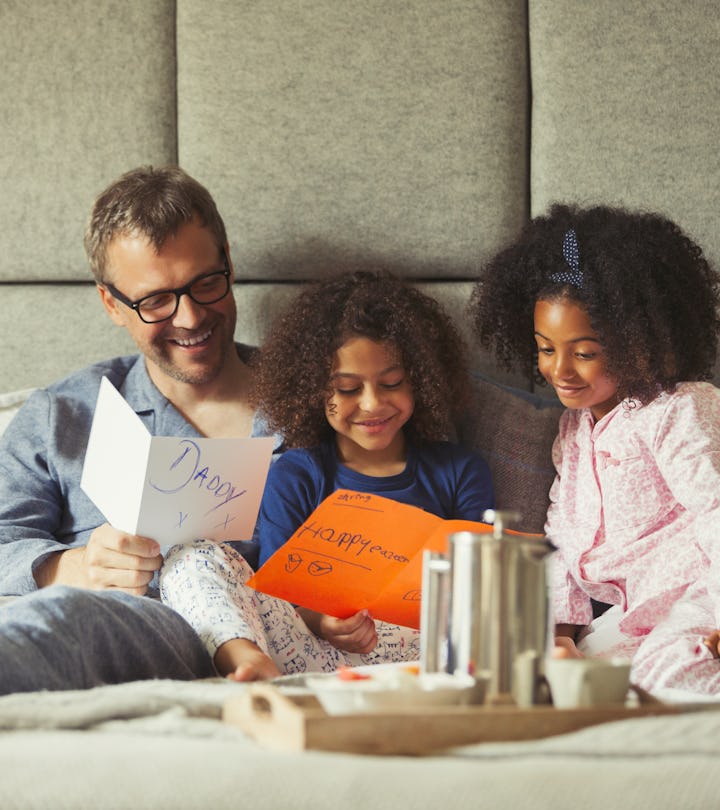 Caia Image / Getty images
25 Funny Things To Write In A Father's Day Card To Make Dad LOL
It's a lot of dad jokes, TBH. He'll love it.
While some families pride themselves on the ability to make someone weep uncontrollably reading a greeting card, others compete to see who can make dad laugh out loud reading his child's latest epitaph. If you fall into the latter camp, these funny things to write in Father's Day cards are exactly the ones you need to garner a comical moment that may even end with a sputtering spit-take that sends your dad's drink of choice flying out of his nose.
OK, maybe laughing so hard a drink squirts out of his nose isn't exactly how your dad pictured his Father's Day, but scrawling a message in his card that will give him a chuckle or two is definitely the way to go. Whether you choose something quotable from a comedian and pair it with your own humor, or opt for a witty few lines from a clever greeting card company, you are bound to find a phrase or two that suits a special guy in your life. After all, you know this much to be true: Your dad, husband, brother, best guy friend — they all love a good laugh.
Choose one of these and, perhaps, you might be the person who has everyone laughing so hard that they do indeed cry over your card. Plus, being the one who brings a smile to dad's face on the day designed to celebrate him is sure to earn you plenty of bonus points the next time you and your siblings argue over who his favorite kid is. (It's me, Dad. It's always me.)
Laughter is the greatest gift of all. So, if you're in the mood to make Dad's day especially memorable, stick to these funny things to write in Father's Day cards this year.
This article was originally published on