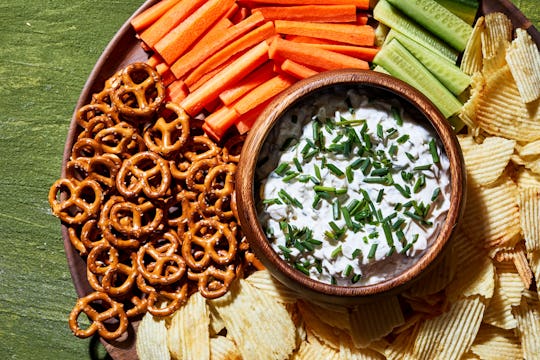 The Washington Post/The Washington Post/Getty Images
These 30 Walmart Appetizers Are Super Bowl Snack Goals (Get It?)
Wings, sliders, and mozzarella sticks for the win.
We may receive a portion of sales if you purchase a product through a link in this article.
Whether you're in it for the game, the commercials, or the halftime show, the Super Bowl is a great time to gather with friends... and eat some really good food. If you're hosting a party, don't bother making an actual meal. Not when the best Walmart appetizers for your Super Bowl party are just as crowd-pleasing and way easier to get on the table.
The big game will happen on Sunday, Feb. 12 at 6:30 p.m. EST and air live on FOX and on the FOX Sports App, according to FOX Sports. The game is taking place at State Farm Stadium in Glendale, Arizona this year, with superstar Rhianna headlining the halftime show. To celebrate the occasion, there are a lot of ways you can go with your party's snack spread with traditional football-watching finger foods like potato skins, chips and dip, and chicken wings.
There's no need to stress out about the food though, because you can get everything you need (and then some) at your local Walmart. They have a huge selection of appetizers so you can be sure your guests won't go hungry. Even better, there are tons of options for easy-to-make apps, so you can spend your time enjoying the game and not cooking in the kitchen.
Regardless of what team you're rooting for or if you're just in it for the commercials, the Super Bowl is an event because it's an excuse to get together with friends and indulge in some food and drinks. You don't have to stress out over what to serve, because as long as it's easy to eat in front of a TV, your guests will be satisfied.
This article was originally published on