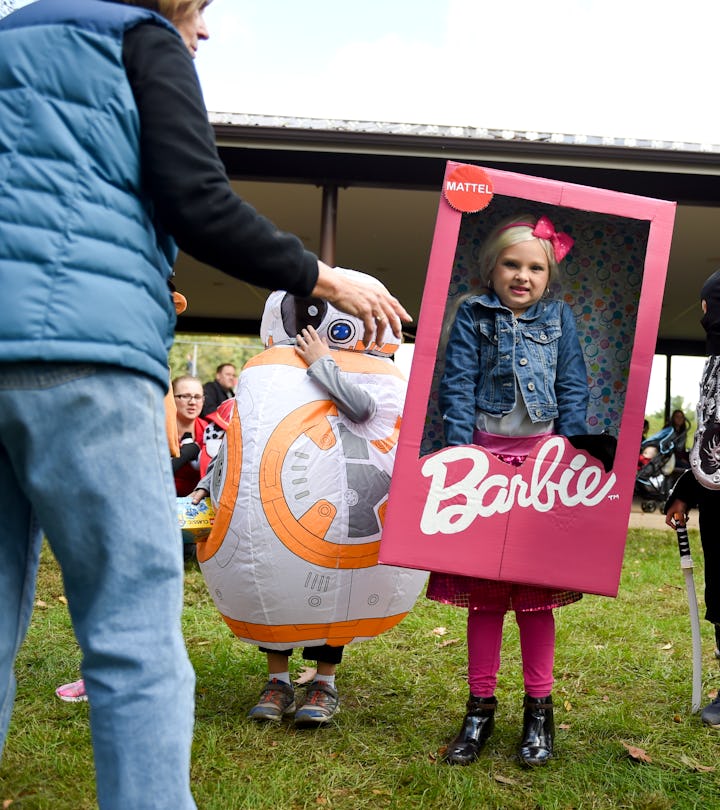 MediaNews Group/Reading Eagle via Getty Images/MediaNews Group/Getty Images
21 Fun Barbie Costumes For The Whole Family
Come on Barbie, let's go party.
One of the most classic kid's toys out there has to be a Barbie doll. Most of us probably have fuzzy memories of playing with Barbie dolls as a kid, whether we were elaborately decorating their pink Barbie Dream House, making Barbie and Ken kiss while giggling about it with friends, or collecting as many dolls and accessories as possible. Despite the controversy that has surrounded Barbie dolls for years, they're still around, making them a consistently popular Halloween costume idea. If you want to dress as Barbie — or your kids want to — there are so many fun Barbie-themed costumes that the whole family will love. And with the Barbie movie coming out in 2023, this is definitely an on-trend option.
There aren't as many official Barbie costumes out there as you might think there would be, but there are still lots cute ways to be Barbie for Halloween — you can beworkout Barbie, '80s Barbie, or wear a dress with the classic Mattel Barbie branding. A lot of people choose to go the DIY route for Barbie costumes, grabbing Barbie branded tees and leotards and pairing them with other accessories to create the right look. You can even purchase a Barbie box that you can walk around in to really get that authentic doll look. Here are the best Barbie costumes for adults, babies, and everyone in between.
Feel free to use some of these costume options as a way to put together your own killer Barbie costume — there really are no rules. You can do something simple and comfortable if you want to go low-maintenance for Halloween this year, or you can go all out with the plastic box and everything. Whatever you do, keep Barbie's signature smile on your face all night long.