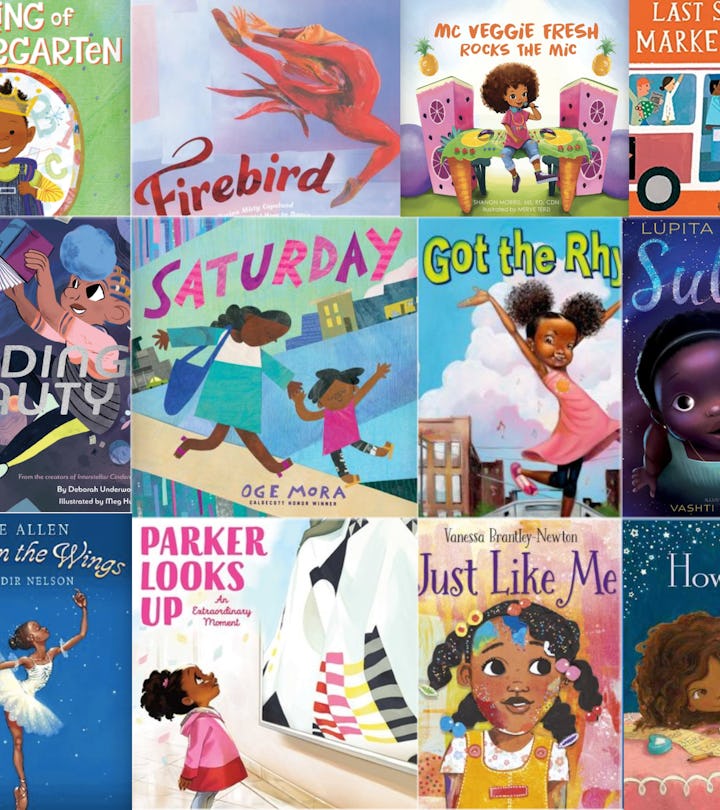 35 Children's Books Starring Black Characters
Books on racism and history are good, but they also need to see Black kids just being the same joyful, creative, adventurous kids they are.
We may receive a portion of sales if you purchase a product through a link in this article.
Of course it's always important for our children to read about seminal moments in history, from the civil rights movement to the election of the first Black president, but it's also important to just show them beautiful children's books featuring Black characters written by diverse authors. Yes, we all need to talk about racism, and yes, white parents need to read books with our kids about how to be anti-racist. But it's just as important that, as a regular daily experience, all children should read about Black characters who love to jump in puddles, who love a snowy day, who argue with their siblings, and who have big hopes and dreams — just like all kids.
"While diversity in children's literature is widely and rightly discussed, I think this particular moment calls for a more nuanced conversation on inclusion," author, creator, and storyteller Oge Mora tells Romper. "When I think of inclusion I think about making room," says Mora, whose children's books include The Oldest Student: How Mary Walker Learned to Read and Shaking Things Up: 14 Young Women Who Changed the World. "Room for more Black authors, more Black illustrators, more Black editors, art directors, and publishers, room for Black people to speak freely, without judgement, room for a seat at the table."
A kid's bookshelf should be full of adventure and wonder. It should encourage them to see the world bigger and brighter. It should tell stories that they can see themselves in — and stories that reflect the world around them. A child's bookshelf can model the equality you want your child to see and to foster in the world. When parents expose their non-Black kids to Black characters without making too big of a deal about it, they help them unlearn their own racial biases. And when Black children see themselves represented in books and other pop culture references as positive characters, it can directly affect how they see themselves. "Exposure to anti-Black bias is a risk for internalized racism and low self-esteem. However, pro-Black images can protect against that risk," Black Enterprise reported.
Each of the kids' books featuring Black characters below is linked to purchase from a Black-owned bookstore or diversity advocate publisher, so your purchase can directly support these business owners.
Fill your child's bookshelf with these children's books starring Black characters and you'll always have plenty of fun, happy, and inspiring tales to choose from.
This article was originally published on